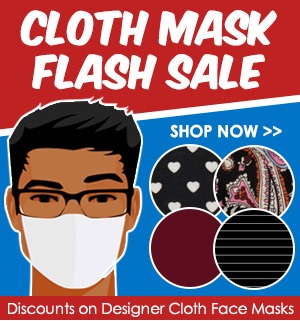 Depending on what kind of job you have you might find yourself wearing a mask for 8 hours straight so comfort as well as protection is very important. And now there are reports that say that it may be time to double up on the masks we are wearing due to the emergence of COVID-19 variants.
Your health and safety are the main priority so wear a mask, but that doesn't mean that style should have to suffer when you want a comfortable mask.
That's why PulseTV is currently running its Cloth Mask Flash Sale! We've got several fashionable masks that are "oh so comfortable" marked down to over 60 percent off. So many styles! So comfortable! Such a great deal! What's not to like?
And let me tell you why I am a huge fan of these amazing masks…
I love these masks for a few reasons:

1. Stretchy and adjustable ear loops gives me (and everyone else) a custom fit.
2. The pocket that allows me to add a filter which gives me maximum protection.
3. The Nose Clip that allows me a tighter fit so I have less fogging of my glasses and also keeps it secure so it isn't always riding up my face!
While these are really the most important part of all these masks I have to admit I love how stylish they are. With 12 fabulous styles/colors to choose from I can match any outfit!
Visit Here to See ALL the Styles Available for such a low price
While there make sure you look at all the different accessories we have to make mask wearing as bearable as possible.
There are lanyards, ear savers, filters, face brackets and more!
Why You'll Love These Masks:
– Washable Saves You Money
– Many Styles For Matching Your Outfits
– Two Layers of Comfortable Premium Cotton Fabric
– Lightweight and Breathable
– Protects Face from Smoke, Pollutants, Dust, and Droplets
– Does Not Irritate Skin
– Adjustable nose wire for comfortable fit
– Adjustable Ear Loops Securely Attaches Mask
– Safely Covers Mouth and Nose
– Each Mask Has a Filter Pocket
– Easily Swap a Replaceable Filter (PM2.5 Filters Available Here.)
– One Size Fits Most
– Approx Size: Width: 7.5″ x Nose to Chin: 6″
Please Note: Due to the nature of this product returns are not allowed.
VISIT HERE to see all the new styles… there is something for everyone!
Hopefully, these items will help to make things easier as we work our way through this stressful time. And for all of your PPE Product needs – visit PulseTV.com and the Masks & More Outlet, today!