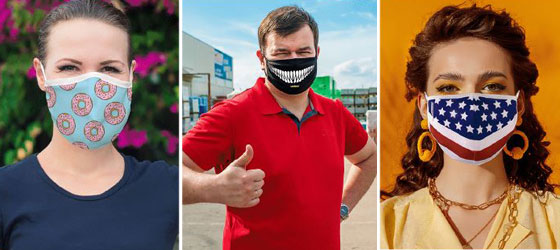 It's no secret that face masks are a health safety requirement now but instead of being sad about it, let's have some fun with it!
At PulseTV.com we're embracing the new fashion accessory and using them to express our unique individual personalities. So join in on the fun and see what we have in-store for you!
Here's one of our Best Sellers, and I must say, my personal favorite: Starry Night by Vincent Van Gogh. It depicts the classic original Starry Night painting with the swirly blue sky and bright golden stars. I love it! And I get compliments on it all the time. It also features a built-in pocket for a carbon filter and has adjustable straps.
For anyone who enjoys space, the Purple Galaxy Mask is the one for you!
This brightly colored galaxy pattern will dress up any outfit. The fabric features the EZ-Breathe Weave, specially woven to stop moisture from penetrating but allows air to flow freely to keep you breathing comfortably.
I hold this design dear to my heart, it's the Pink Plaid Breast Cancer Face Mask. I couldn't be more relieved to say that my mother is a breast cancer survivor, and once I saw this mask I knew I had to gift it to her. It's the perfect reminder of her fight against cancer and how we need to protect those who are close to us that are at high risk.
I can go on about all of the other cool designs we have in stock, but instead I want to share with you that we also sell Carbon Face Mask Filters too! Almost all of our cloth, reusable masks have an included pocket inside for filters. They provide extra protection against dust, smoke, pollution, pollen, viruses and dust while remaining breathable. And we sell it as a ten pack, so be sure to grab a couple for you and your family.
We've been getting new face mask designs daily, and we'll soon be carrying kids masks and fun holiday themed ones too! A lot of these sell out fast so don't wait… Visit our Face Mask Department at PulseTV.com and start expressing yourself today!