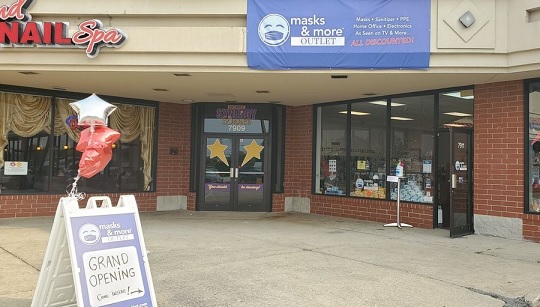 Masks & More Outlet Opens Second PPE Location In Tinley Park
Tinley Park, IL September 25, 2020 – Internet retailer PulseTV.com is opening its second Masks and More Outlet less than 60 days after opening its first brick and mortar store at Orland Park Crossing. This store has over 100 styles of decorative, protective masks as well as disposable masks for both adults and kids, all at steeply discounted prices. Along with all types of PPE, every Masks and More Outlet carries discounted As Seen On TV products featured on its parent company, PulseTV.com's website.
PulseTV Co-founder of PulseTV and Masks and More Outlet, Anisa Ali said,
"We have been overwhelmed with the reception our store has received. People drive from as far as Schaumburg and Chicago to buy our masks (including those hard to find masks for the hearing impaired) and PPE.  Once inside the store, they're also picking up dozens of other products we sell on our website."
The first Mask and More Outlet opened on August 1st and within 3 weeks the company started scouting for new locations. This new Tinley Park location is right in the center of the Tinley Downs Plaza at 7911 W. 171st. Street, less than a mile from the sprawling warehouse also located in Tinley Park. After a successful launch of the flagship pop up store, expansion was a natural evolution. Tom Zegar, the second of three co-founders offered:
"We have been an online retailer since 1999 and a brick and mortar store was never part of our plan. Offering designer masks and PPE priced at well below normal retail was a gamble on top of also adding dozens of other cool items having nothing to do with PPE. Whether this pays off or not remains to be seen. We are hopeful that each community we place a Masks and More Outlet welcomes us with the same enthusiasm as our first Orland Park store."
Tinley Park was a natural fit for expansion with the corporate office of Masks and More Outlet's parent company PulseTV also based just blocks away in Tinley Park. All three co-founders have extensive roots in the south suburbs of Chicago. Anisa Ali offered,
"My brother and third co-founder grew up in Tinley Park and went to Tinley Park High School. We have a great relationship with the village, fire and police departments. We began manufacturing hand sanitizer right in Tinley Park this past March under the private label name Purifize which is now sold all over the country."
One of the key features of the pop up PPE store is offering huge discounts off prices offered even on its own website. People can also get what they want exactly when they need it. The grand opening for Tinley Park is scheduled for Sept. 26st.  Will this second location lead to additional stores? Tom Zegar continued,
"We wish we had a crystal ball, but if our second location is self sufficient and Tinley Park residents respond as Orland Park folks did, we will continue. We are actively scouting retail locations in Homewood, Frankfort, Mokena and New Lenox with even more possibilities outside Illinois in Arizona, Connecticut and Florida too!"
PulseTV.com is a North American online retailer that has been marketing exclusively online since 1998. For more information or to set up an interview, contact: Mary Kolacki, Communications Director M.Kolacki@PulseTV.com or call 708- 478-4500 ext. 109.