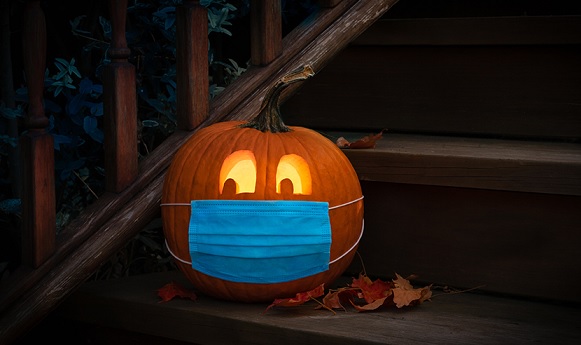 It is that special time of year when the leaves change colors, a cool, crisp wind starts the blow, and the sun set a little quicker each night. Yes, autumn is upon us and with it the harvest season – and Halloween!
During these uncertain times we need to protect the health and well-being of ourselves and our children, but why can't we have some festive fun with it with some Halloween Face Masks?
Halloween Face Masks
In 2020, Halloween Masks are taking on a whole new meaning. Here are some stylish Halloween Face Masks, available at both PulseTV and the Masks & More Outlet, that will certainly show off your spooky spirit!
Classic Pumpkins Face Mask
It's fall y'all! If you love pumpkin 'everything', then you'll adore this black and orange pumpkin mask! The perfect mask to wear all season long!
Classic Bat Face Mask
Ghosts, goblins, and bats…oh my! Celebrate Halloween the whole month with this classic bat design face mask.
This reusable cloth face mask is not only stylish, but the quality is what you will appreciate most!
Little Monsters Face Mask
Who wouldn't love wearing this face mask covered with adorable little monsters? This isn't just a great accessory for Halloween, but this could be worn all year long! Get the Little Monster Face Mask and show your cute side, like those guys from Monster, Inc., during the Halloween season.
Vampire Fangs Face Mask
Get into the Halloween spirit by sinking your teeth into this popular Vampire Fangs mask! The frightening fangs will surely freakout folks this time of year. This Halloween Face Mask has some bite to it!
Pumpkin Jagged Smile Face Mask
That's a spooky smile if I ever saw one! Halloween season is here! Share your love for Halloween with the rest of the world with this classic face mask. The Pumpkin Jagged Smile Face Mask is one of the scariest looking smiles that you will ever see – it is hard to ignore those sharp grin!
Teeth Face Mask
Show your fierceness with this set of teeth that is fun but also intimidating. One of our most popular designs we're betting it is because we all want to shred thru 2020! This Teeth Face Mask looks lean, mean, and has no food in-between. Just kidding – it looks scary, right?
While stylish, you'll also love the quality of these Halloween Face Masks. Made with two different layers, you get protection while being able to stay completely comfortable. The inner layer is made with 93.1% soft and breathable cotton plus 6.9% spandex. The outer layer is made of 100% polyester.
Even after hours of use, these hi-quality fabrics feel comfortable and won't irritate the skin. The fabric features the EZ-Breathe Weave, specially woven to stop moisture from penetrating but allows air to flow freely to keep you breathing comfortably.
Halloween Face Masks for Kids
Don't worry! We know that Halloween is for the kids. So here is a selection of Halloween Face Masks made just for little ghouls and goblins in mind.
Kids Green Zombie Face Mask
It's the most spook-tacular time of the year! Get into the Halloween spirit with this Green Zombie face mask. Kid zombies are always a great way to send shivers down spines. Classic and creepy!
Kids Ghoul Face Mask
This ghoul mask will give goosebumps to all of those that see it! If you're feeling spooky and want to get into the Halloween spirit get the monstrous Ghoul face mask.
Kids Mummy Face Mask
Get your mummy mojo on and celebrate Halloween monsters with this creatively cartoony Mummy face mask! If you need a funny Halloween mask for the kids, put on the this mummy mask, and that's a wrap!
Kids Classic Pumpkin Face Mask
Your little pumpkin will look adorable all fall season long wearing this classic Halloween pumpkin face mask. Features the classic black and orange pumpkins – perfect for any little boy or girl!
Kids Classic Bat Face Mask
Ghosts, goblins, and bats…oh my! Have your little bat-boy or girl celebrate Halloween the whole month with this classic bat design face mask.
Kids Little Monsters Face Mask
Have your little monster wear these furry little monsters! It's cute, colorful, and captures the fun of the season. Plus, this isn't just a great accessory for Halloween, but this could be worn all year long! Get your kids the Little Monsters Face Mask today!
Maximum Protection At An Affordable Price
Most of the masks we sell, including our Halloween Face Masks, have an inner pocket that allows you to add a disposable filter, which we also carry – 5 Layered Activated Carbon PM2.5 Filters for Face Masks (10-Pack). When added it ensures maximum protection of 95% filtration or more of particle and bacteria. Using both gives you the most protection at a price that is affordable for everyone.
A Bright Idea For When You Are Trick 'R Treating
When you are going house to house for treats this October 31st, make sure that you are not stuck in the dark. If a dependable flashlight or headlamp is what you need to get through this year's tricks and treat, please visit our Flashlights and Lighting Solutions Department or the Farpoint Light Collection Department for all of your illumination needs.
Masks, Masks, and More Masks!
Make sure to check the Fashion Face Mask department often because new masks, accessories, and styles are coming in weekly!  You heard it here first so for everything else, keep it locked to PulseTV.com or you can head to our first brick and mortar store – the Masks and More Outlet. Go to the website https://www.masksandmoreoutlet.com/ for more information like store location, hours, and much more.
Happy Halloween!
From all of us at PulseTV and the Masks & More Outlet, we sincerely hope that you have the safest and happiest of Halloweens – especially this year. It has been scary enough with everything that has been going on, so lets just take a break and try to have a little fun. I'm sure we could all agree on that. Happy Halloween!