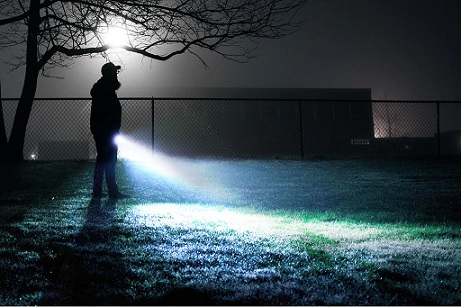 About a month ago, my family and I moved into our new home. The good news: all of our stuff made it to our new place. The bad news: I had to find a places to store, house, and deposit, a good chunk of our belongings. The two prime locations for storage in our new home is the attic above the garage and in the crawlspace in the basement. My lovely wife and spirited children were reluctant, to say the least, to venture into these dark, dank, and dreary spaces. However, I was actually looking forward to taking on the task because I had the right tool for the job.
With a single bare light bulb mounted to the ceiling in both the attic and crawlspace there is nowhere near enough light to see clearly and sufficiently. Luckily, I had the Rechargeable Do It All Light on hand!
At just 2 x 3 inches this multi-purpose light fits easily in the palm of your hand, tool box, glove compartment – even your pocket! It's was the perfect size to help me out in such tight spaces. It would of been a nightmare trying to deal with a bulky floodlight and having an extension cord in the way.
But don't be fooled by its compact design because this little light can burn bright by using advanced LED technology to give off up to a whopping 800 lumens of room filling light! Check Out Our Video to See Just How Bright It Can Get!
How Many Light Settings Does It Have?
And depending on what you need it for you can choose between seven light beam setting based on color temperature: Low Power (Warm White Light), Max Power (Warm White Light), Low Power (Cool White Light), Max Power (Cool White Light), Turbo Power (Cool White Light), Red (Solid Red Beam), and Emergency (Flashing Red Beacon).
Please Note: PRESS and Hold button for 3 seconds to activate Turbo Mode. In Turbo Mode this light can be seen up to a mile away! But be warned, Turbo Mode causes the light to get hot and the battery charge will drain faster. Follow instructions on packaging for optimum usage.
What Can You Use It For?
The real question should be: What can't you use it for? This versatile device can be used as a flashlight, lantern, emergency beacon, roadside flare, emergency lighting, work light, camping light, professional style lighting for picture and video taking… the uses are endless!
Another aspect of the Rechargeable Do It All Light that makes it so handy is that it's designed to be "hands-free". It has 3 distinct built-in components to get you the light to need exact where you need it.
– Carabiner Clip (For Easy Hanging)
– Magnet (For Quick Adherence to Metal Surfaces)
– Kick Stand (For Going Full "Work Light")
Plus, there's a 6 inch high Tripod included, too! This is really handy for creating professional style lighting for picture taking and videos. This is a must for any social media posts, if that's your thing!
It can even open up a bottle! No more stopping the fun at night to grab a bottle opener… it is built in!
I would seriously suggest keeping one in the car not only for lighting, but it's great to have in your vehicle so you can be prepared if you experience a breakdown. Use the Flashing Red Beacon mode instead of a flare. It's much safer!
CLICK HERE To learn more about this light's FEATURES AND BENEFITS!
Built with High Quality Construction
This is one tough little light! The base is made of durable aluminum alloy with plastic inserts embedded on each side. This little light can take a beating! And it is also splash proof with an IPX4 rating – so it can take on the elements, too!
AND WHAT'S THE BATTERY SITUATION?
I can't believe I didn't mention that this reliable light has a built-in rechargeable battery, and it has a charging indicator light, which is a nice touch. Included is an advanced USB-C charging cord and port for fast charging. This way your light can be ready to shine when you need it most!
***
Frankly, this one little light will replace a whole host of other lights you have. You'll be amazed on just how often it gets used whether an emergency arises or you just need some light, warm and bright! The Rechargeable Do It All Light has certainly come in handy for me and it'll become the "GO TO" light for you. Be sure to check it out HERE to see a great demonstrations of exactly what it can do – and to order today!