Are you ready for our Employee Pricing Event?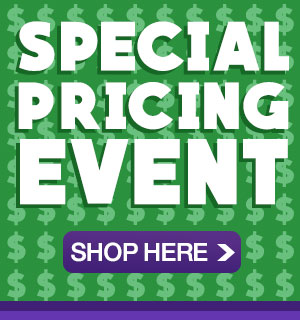 We give our employees extra perks, like discounted pricing, for all their hard work they put in every single day.
We, also, believe in giving back to our loyal customers too! This is only the SECOND TIME we are offering some of our BEST customers the same pricing we give our employees!
Take a second and browse through some of our favorite items you can buy at a HUGE discount!
There are over 30 items, but I do want to caution you stock on some is limited. HERE'S A TIP: Save on shipping and order a bunch of stuff!
Easy Access Emergency First Aid Kit…$10
You never think accidents are going to happen, but when they do, are you prepared for them? This small, light-weight kit has 210 essential items for treating minor wounds and injuries. There's a lot of items most people don't have around lying around the house: wound dressings, antiseptic wipes, alcohol prep pads, a cold pack and disposable gloves.
There is even an emergency blanket! It weighs almost nothing and takes up almost no space, but it unfolds to a large 83 x 51 inches. The aluminized polyester is wind and waterproof and reflects body heat back to the body, making it a life-saver in outdoor exposure situations or when the body goes into shock.
When it comes to first aid, I always say it's better to have it and not need it, then need it and not have it. See the complete breakdown of all the items in the kit listed on our website.
Measuring 8 1/2 x 6 1/2 inches and weighing barely over a pound, this zippered kit is so small and convenient you can easily keep it in a kitchen drawer, the glove compartment of your car, or the bottom of a backpack. You might never need it, but if you do you'll be glad it's there!
Battle Vision Night Vision Glasses – 2 Pairs…$5.77
I don't care who you are, navigating the glare and seeing at night while driving is really difficult… and dangerous!
If only there were a way to cut the glare and see better for safer driving? Well there is with the Battle Vision Night Vision Glasses by Atomic Beam!
You may have seen these exact ones on TV and wanted to order. You'll be glad you waited because we've got them – And you can get TWO PAIRS! An extra pair can really come in handy if you lose one, want to leave one in your vehicle, or if you want to share the spare with something that could really use it!
Made with high-tech, micro-infused yellow-filtered lenses, these glasses are designed to be worn at night, or in low light conditions like fog and rain. They give your eyes protection from debilitating headlight glare and street light glare, all while enhancing color and reducing eye strain.
The aerodynamic, wraparound design makes them ideal for any night time activity and the shape-memory polymer construction gives your Battle Vision glasses excellent flexibility and durability so they're great for any outdoor or sporting activities like hunting, shooting, fishing and ATVing.
Trust me, there's nothing better than being able to see what you're doing – especially when it's nighttime driving. So if you want to win the war against blinding glare and give yourself a clear view of the road ahead get the must have Battle Vision Glasses – plus, it includes an extra pair!
6ft Braided 3-in-1 Multi Charging Cord: Android and iPhone-Ready…$5.78
You'll never need to buy another because this 3-in-1 Braided 6ft Charging Cord will charge up ALL of your devices!
This unique cord has 3 different cable types at the end of it which include a Micro USB, Type-C and iPhone Lightning Cable. This allows you to charge 3 different devices at once! Charge up your smartphone, tablet, iPad and any other compatible device.
Best of all, this cord is 6ft long! It can reach behind a couch, night stand, desk or virtually any hard-to-reach outlet. The braided, durable cord resists tangles and is easy to travel with – especially on long family road trips! It's perfect for kids so they can charge up their devices from the back seat.
Plus, it's convenient to have different cable types laying around the house. I have an Android phone but whenever I host a party there's at least one person who is looking to charge an iPhone. So not only can they use the Lightning Cable, but I can still use the other one for my phone at the same time, and STILL have room for another device.
While most current phones will use either the Lightning Cord or USB Type C (Samsung Galaxy), there are still plenty of devices that can utilize the Micro USB. Recharge accessories like speakers, headphones, flashlights, eReaders, and even older Android phones.
The 3-in-1 Charging Cord is still one of our TOP selling products, and everyone loves it- and you will too, especially at this low price!
Chilly Ice Towel…$3.91
One of our most popular Summer items has been the Chilly Ice Towel. There is no better way to stay cool during the hot months. Just wet it and forget it!
This towel is made of a hyper-evaporating fabric that cools off as it naturally dries. To activate, simply wet the towel with any available water source, hot or cold, and wring out the excess water to let the magic happen! After a few shakes, it downright feels ICY-COLD and lasts for hours. Brrrr! It feels so good.
Drape it over your shoulders or tie it up like a bandana – it's like you have AC around your head and face! It's perfect for workouts, walking/hiking, gardening, or even fighting fevers and headaches. Grab some for the kids in their summer sports leagues – it's safe for them, and they will love shaking the towel.
Each towel comes in a carrying bottle that keeps your Chilly Ice Towel moist and cool when you need it most. The bottle has a carabiner hook making it super easy to attach to any gym bag, purse, or backpack so you always have one on hand. It's also machine washable and can be reused over and over; just re-wet to start the process again.
Whether your standing in line at Disney Land or going for a hike in the woods, this is your go-to item to stay cool!
Don't wait to visit, this sale won't last long. But most importantly…This sale won't disappoint you!
Stop by our special page designated for great products at employee prices!