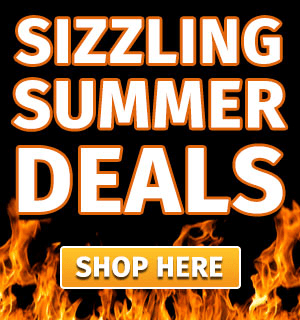 STOP everything you are doing because it's happening, and it's happening NOW…Our Sizzling END of Summer Sale!
We are not too happy that summer is ending, but we are going to make the best of the situation. So we have gone bonkers here in the office and slashed prices left and right on some of our HOTTEST summer items!
There are well over 30 items we have discounted, but I do want to caution you – not only is stock limited on some of these items, but this incredible sale with burn out on September 20th – So DO NOT let these HUGE savings slip by!
This spacious soft-sided insulated cooler is perfect to take with you camping, to a picnic, beach, sporting event or just about anywhere. Inside, you can comfortably fit 6 cans, a couple of water bottles and a small cooler pack. But don't you worry, there's a separate space on top to pack food and more!
The top compartment unzips and expands 3 inches so you can pack whatever dry food you want inside. There are also two mesh pockets on the side to store more water bottles or extra snacks. And on the front, there's two smaller zippered pockets where you can keep miscellaneous items in.
You can use this as a lunch box too for work or school! It's made out of a high-quality durable material and has a leak-proof lining. It also comes with an adjustable strap so you can carry it comfortably off your shoulder.
I'm telling ya, you are going to like this cooler way better than those smaller bulky hard shell ones. This one folds down quickly for easy storage.
This little unit is a personal, PORTABLE Air Cooler – it's like a mini AC just for you!
It draws in the hot air around with a powerful fan, and blows it through a water-cooled filter. It even humidifies the air! It works with evaporative cooling technology, and let me tell you it's a very noticeable difference compared to a regular fan.
There have been many air coolers like this before, but their filters were usually thin paper strips prone to mold/mildew. Ours has an upgraded filter tray made of thick fabric that is resistant to mold growth AND is even dishwasher-safe! You can even pop that filter in the freezer for even colder output!
Control with 3 different speed settings and direct the airflow with the vent for a comfortable breathing environment. Plus, it's eco-friendly and gives you instant relief exactly where you need it.
Use it in the kitchen while preparing dinner, the living room while watching TV, or even on the bedroom nightstand. It's lightweight and easy to take anywhere there is an outlet or USB adapter.
Is this going to cool a whole room down? No – but it provides a mini comfortable bubble exactly where you need it, saving you tons in energy costs! That's coolest thing of all!
Gaiters have become more and more popular over the past few years. Maybe it's because they can be used for so many different ways! They protect you from bugs, sunburn on your neck, but there is something extra special about ours…it can help you stay cool on the hottest of days!
The Chilly Wrap will become your coolest buddy all summer long! Now you can stay cool while cutting the grass, hunting, hiking, fishing, or just enjoying time with friends and family outside.
There is no complicated instructions here, it's super easy to use. Simply soak it in water, wring and snap the wrap. The gaiter will get ICY-COLD quickly, and cool you down. The secret is the fabric: it evaporates water quickly, leaving you cool and dry for hours at a time. It will get up to 30 degrees cooler than the outside temperature – it's AMAZING!
There are over 10 ways for you to wear this: neck gaiter, headband, hair cover, full ninja cover, around your wrist, and more!
The Full-Size Reusable Compressed Beach Towel is one of my favorite  items! So what is so special about a beach towel?
To start it's much more than a beach towel. It has so many uses, I started calling it my Swiss Army Towel.
Think about how much room a standard beach towel takes up in your bag. Well, this towel only takes up 3.5 Inches of space and it's just one inch thick. That means one bag can hold tons of towels. If your worried about being weighed down… No worries, each towel weighs just five ounces.
I said this was a full-size towel and I meant it. Unfolded it measures 36-inches X 60-Inches. Plus it's made of High-Strength Viscose. It's soft, comfortable and mega-absorbent, and dries within minutes instead of hours. To unravel the towel, just dunk it in water. Why would I want to dry off with a wet towel? I was in for a surprise. Even after absorbing 9.5 times its weight in water, it was almost fully dry within about five minutes.
Everyone should have a couple of these in their car for emergencies, and not just during the summer! You gotta check it out…
And this is just the beginning! There is so much more… CLICK HERE to SEE ALL THE DEALS.
You'll only get them when you visit THIS special page. HURRY, It's Here…Our END OF SUMMER SALE EVENT!
Grab some of these summer essentials at a HUGE Discount. And remember stock is limited on many of these items – and this "too hot to pass up" sale with burn out on September 20th – so don't wait!