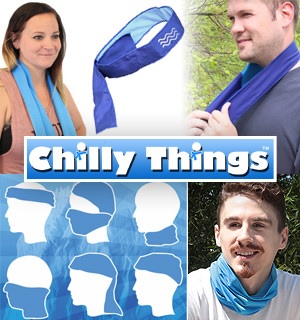 Hey! Whether you're hanging at the beach, working in the backyard, or watching your sons baseball game in the hot sun, a cooling towel offers a quick way to lower your body temperature and beat the summer heat.
Cooling towels are actually pretty amazing, they are made of high-tech fabrics that are activated with water. Just wet your towel, wring it out, and snap it a few times before applying it for a super cool relief.
We have THREE of the best cooling towels to keep you cool and comfortable on those super hot summer days.
The Chilly Wrap Stay-Cool Neck Gaiter and Instant Face Mask…$9.99
Gaiters have become more and more popular over the past few years.
They protect you from bugs, sunburn on your neck, but there is something extra special about ours…it can help you stay cool on the hottest of days!
The Chilly Wrap will become your coolest buddy all summer long! Now you can stay cool while cutting the grass, hunting, hiking, fishing, or just enjoying time with friends and family outside.
There is no complicated instructions here, it's super easy to use. Simply soak it in water, wring and snap the wrap. The gaiter will get ICY-COLD quickly, and cool you down. The secret is the fabric: it evaporates water quickly, leaving you cool and dry for hours at a time. It will get up to 30 degrees cooler than the outside temperature – it's AMAZING!
There are over 10 ways for you to wear this: neck gaiter, headband, hair cover, full ninja cover, around your wrist, and more!
Best of all, it's reusable! Just be sure to re-wet it and repeat the activation process.
Chilly Ice Towel – A Cold Towel That Lasts for Hours…$5.99
The amazing cooling properties in our Chilly Ice Towel make it a MUST HAVE in warmer weather.
This towel is made of a hyper-evaporating fabric that cools off as it naturally dries. To activate, simply wet the towel with any available water source, hot or cold, and wring out the excess water to let the magic happen! After a few shakes, it downright feels ICY-COLD and lasts for hours.
Drape it over your shoulders or tie it up like a bandana, it's like you have AC around your head and face…It's perfect for workouts, walking/hiking, gardening, or even fighting fevers and headaches. Grab some for the kids in their summer leagues – it's safe for them, and they will love shaking the towel.
Each towel comes in a carrying bottle that keeps your Chilly Ice Towel moist and cool when you need it most. The bottle has a carabiner hook making it super easy to attach to any gym bag, purse, or backpack so you always have one on hand. It's also machine washable and can be reused over and over; just re-wet to start the process again.
We have an great deal on the Chilly Ice Towel, plus, you save more when you grab an extra. Make sure your loved ones are staying cool and healthy!
Neck Chilly – Keep Your Cool All Day Long…$4.99
I'm beyond thrilled to have a New and Improved version of the Neck Chilly!
I've made no secret as to how much I loved this item since I first discovered this about 30 years ago when I lived in Arizona. We were at an all day fest of food and music celebrating the 4th of July.
As you can imagine being outdoors all day in Arizona in July is pure insanity. We were sweltering and even being in the shade there was just no cooling off.
We spotted a crowd of people at a booth and went there. They had these cooling neck wraps and they let us try them and it was like heaven.
Let me tell you it was worth EVERY penny. I used it for years and years until it finally wore out.
Unlike the old version that used acrylic polymers, the soft and hyper-evaporative material eliminates the "sausage" look and bulkiness. The new sleek design allows you to wear it around your neck or as a bandana around the head and you can still put your hat or helmet over it!
Tested… Proven… AND Loved by me… I just can't say enough about these. The new design just blows me away. So much better and functional.
Use it for hiking, gardening, rafting, crafting, watching TV, BBQ'ing, having hot flashes, well, you name it! It's reusable, simply re-soak and you're good to go. Plus if you sweat a lot you can just throw this in the washing machine and it cleans up nicely!
There are so many cool deals to be had! Make sure to head on over to PulseTV today and pickup some of these amazing items and more! And get ready to have a great summer!