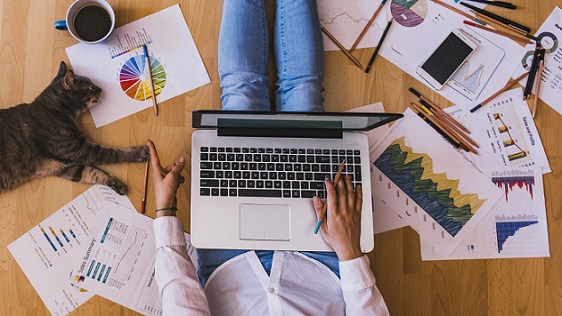 While this novel coronavirus has put a lot of people temporarily out of work, there are also a lot of people who are lucky enough to be working from home. But when you are kicked out of the office you quickly discover that the dining room or the coffee table does not make an ideal work space! Fortunately there are a variety of helpful products that will help turn your home into your business headquarters.
That dining room chair is fine for enjoying a pot roast, but after a few hours in front of a laptop I bet your backside starts to get a little numb! Try the Egg Sitter support cushion and you'll never want to go back to your office chair again. The Egg Sitter uses a silicone material arranged in a honeycomb so it maintains its shape even after hours of sitting. These cushions are SO absorbent that you can actually sit on an egg without breaking it!
It's not only adults who are being forced to stay home. Classes are suspended which means those little kids are running around the house, watching TV, playing, screaming, and generally causing havoc. If you can't concentrate because of all the noise just slip on a pair of Sonus Noise Cancelling Headphones. That's right, it doesn't just block outside noise, but electronically cancel it out before it can reach your ears! Plus, the latest Bluetooth 5.0 wireless technology lets you listen to all your music, podcasts, audiobooks, videos and more from your device up to 33ft away.
So you've got your laptop, your smartphone, your tablet and probably another toy or two all at the dining room table next to ONE AC outlet. What you need is someplace to plug everything into at once. Something like the Dual USB Outlet Tower Charger with Built-In Shelf. The Tower Charger transforms your standard outlet by giving you access to 8 AC slots and 2 USB ports. Plus, it even includes a built-in shelf to neatly hold your items and cables, keeping your surfaces clean and clear. And that is a necessity when space AND OUTLETS are at a premium.
Speaking of space; is your smartphone constantly getting in the way – or worse – getting lost? You need to look at both your laptop and your phone, but propping it up against the salt shaker just isn't working. The Hands-Free Universal Smartphone/Tablet Stand lets you pose your device wherever you need it so you can access you your phone hands-free. You can clamp it to any surface you like, and it is outfitted with a silicone pad to prevent scratches or nicks. The gooseneck is equipped with a 360 degree ball swivel so no matter what angle you need, your phone or tablet will be at eye level.
These are just a few of the products that can turn your home into a functioning office. For more great stay-at-home products just visit the Stay At Home Page Here. Dozens of products for adults and kids to keep you healthy, happy and productive while we're all sheltering in place.