You Seen These Popular Products on TV!
But NEVER At These Discount!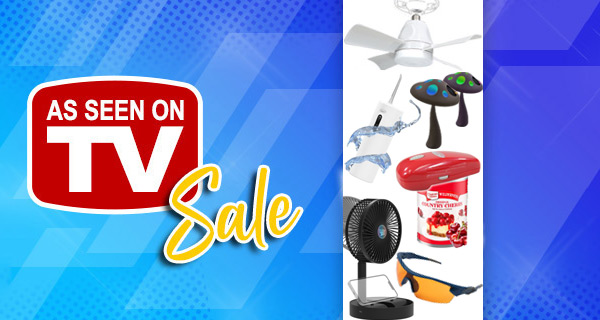 The television stations have been filled with commercials for all kinds of products.
Did you know we carry so many of those? AND you'll spend a fraction of the price from us… plus hassle-free returns and great customer service.
So let's get right to all the deals!
BluTiger Seated Elliptical Machine
$199.99 SALE: $99.99
Sit while you get fit… at the lowest price ever!
Sharper Image Ultra Quiet CPAP Cleaner W/Travel Case
$99.99 SALE: $29.99
CPAP users will love how easy it is to finally and thoroughly clean their CPAP hoses.
PowerXL Steam Cleaner
$59.99 SALE: $29.99
Using this you won't believe how easy it is to clean. It's so satisfying to see the grit and grime disappear! Order soon as this will sell out.
Deluxe Solar-Powered Water Fountain
$19.99 SALE: $9.99 (or less)
Turn any ordinary outdoor water area into extraordinary. This won't last long because of our super-low price!
Car Windshield Umbrella Buddy: Pop-Up Sunshade
$24.99 SALE: $11.99
The ultimate gift for people who park their car in the hot sun!
Deluxe Microderm Blemish and Pore Cleaning System
$49.99 SALE: $4.91
This isn't a misprint, we are selling 200 of these for under $5… or if you want you can pay $50 at stores like Ultima!
Ultra-Bright Triple Panel Garage and Ceiling Light: 6000 Lumens
$49.99 SALE: $19.99
Is this the best garage light ever? The answer is YES! You'll love it or your money back.
TASC Trio Makeup Sticks
$79.99 SALE: $29.97
Like Boom Sticks but at this low price! 2023 is the year of the "no-makeup" look let this amazing and affordable cosmetic line simplify and help you achieve this!
EZ Moves DIY Furniture Moving System
$45.99 SALE: $14.99
Even 80 year old grandma's can lift and move heavy furniture with ease using this.
VISIT HERE for the insane deals that can't be believed!
Did you know we carry many of the products you see sold on TV?
Even better is you can buy them from PulseTV.com for 1/2 the price!
Plus hassle-free returns and great customer service.