Oh man I thought wearing a mask was almost all behind us. Well now thanks to the good old Delta + variant the Corona seems to be spiking again!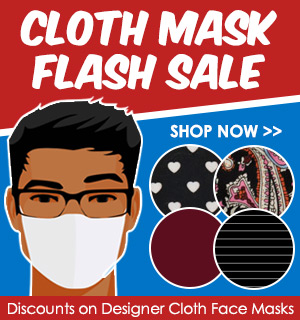 More states are back to mandating masks, especially when you are at inside gatherings. At the time I am writing this we are up to 5 States and or Cities requiring them again… and certainly more as time goes on!
We still have the most comfortable 2 layered cloth masks available and the lone good news I can bring you is we've slashed your cost. Some masks are now just 99 cents!
We have all kinds of stylish masks available. If you have to wear a mask, why not wear a comfortable one? You will love how these fit and feel!
With over 100 different styles to choose from you are sure to find something you like. Here are some examples of what we have… but it is just a small sampling!
The Starry Night is my favorite mask. I get many compliments. And the 2021 Checklist is another one I wear quite a bit.
I just got a Silver Sequined one to wear at my nephew's upcoming wedding.

If you're a fan of the TV show Friends then you can't pass up the Could You Be Any Closer one! If you feel like screaming… then the classic artwork one of The Scream is perfect!
If you have kids, we have a full selection of masks most of them are 99 cents for kids. There's designs, fun ones and then solid colors for schools.

We even have for BOTH kids and adults some Chicago Sport Team masks. We bought a huge closeout on these and now you can get these $18 masks for just 99 cents!
There's so many to choose from I know you'll find a few you like and I know even more that you will find these VERY comfortable.
VISIT HERE to see the pictures and all the discounts