Spring is here!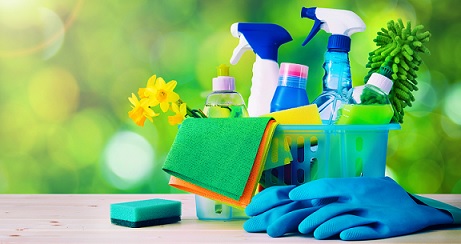 And since we'll be home-bound for a tad longer, there's no better time to take your spring cleaning to the next level.
Here at PulseTV, we've been cleaning and disinfecting the office constantly but it doesn't stop there. When we go home, the cleaning continues… From deep cleaning the kitchen, bathrooms, bedrooms – there's always something to clean! Thankfully, we have plenty of items available at PulseTV to help ease the stress of cleaning.
Here's a personal favorite – The Cordless Handy Scrubber! This must have cleaning companion has a powerful rotating brush head that spins at 280 RPMS, it literally does the work for you! This model is perfect for scrubbing away calcium deposits, dirt, soap scum and more. It comes with 3 different brush heads to help clean a variety of surfaces. And no more bending over and aggravating your back either, the scrubber has an extension pole that reaches up to 4 feet! Best part is that it's portable so you can use it anywhere in and around your home.
Now this is a PulseTV exclusive offer… The Purifize Disinfectant Wipe Kit! We are so very proud and humble to have worked with a local company to produce and supply our community with Purifize, you're all-in-one hand and surface cleaner. It's made with 70% alcohol which exceeds the CDC recommendation for cleaning and sanitizing. Since disinfectant wipes are super hard to find, we decided to pair Purifize with our best-selling Streak Free Cloths! Now you can clean and sanitize just about anything with this kit. Best of all, the streak free cloths are reusable so you can disinfect and clean over and over again.
The Official As Seen on TV Dust Daddy is another very helpful cleaning tool. It cleans all of the stubborn, hard to reach places where dust and allergens like to hide. Inside vents, crevices, lamp shades, window blinds and the dreaded car console. All you need to do is attach it to your vacuum's accessory hose, turn it on and start dusting! The suction tubes were designed to move gently around small items in drawers or storage areas, leaving them untouched but sucking up all the dust and debris surrounding them. It's actually fun! You'll end up running around the house finding areas to clean that might have gone unnoticed or ignored for years.
Window cleaning… the most dreaded of them all! Well here's something to help out with that, it's called the Window Whizz. This turns any spray bottle into a cleaning machine. You simply attach it to a cleaning bottle, place the microfiber cloth and clean away! It ultimately frees up one hand so you can clean your windows faster and more efficiently. Stop using and wasting paper towels, the included micro fiber cloths trap dirt in just a few swipes. Plus, they're reusable! You can throw them in the washer and clean with them over and over again.
At a time like this, it's super important to clean and disinfect your home, office or wherever you're sheltered. But if you need a little help, head on over to PulseTV and see what cleaning aides we have in-store for you.