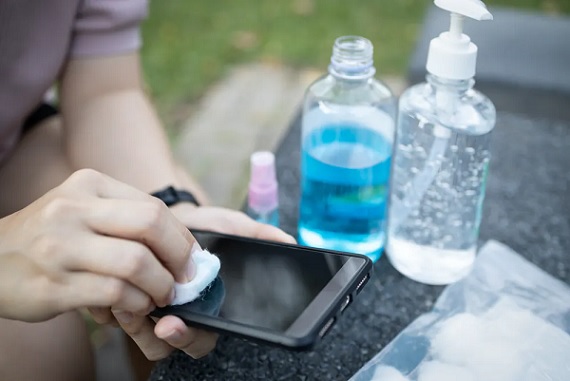 I think that we could all agree that the motto of 2020, besides "The Worst Year Ever!", could most likely be: Clean, Sanitize, Disinfect, Repeat.
It seems like all we do these days is sanitize and disinfect ourselves, our homes, work spaces, door knobs, shopping carts, steering wheels, car keys, cell phones – the list goes on and on.
As important as it is, in the era of COVID-19, it can become stressful, time-consuming, and expensive, to keep our lives as clean and healthy as we should to get through these strange, scary times.
If you have been tirelessly searching for alternative sanitizing solution that will make living through this pandemic easier on you and your wallet – looking no further!
PulseTV and the Masks and More Outlet are here with several alternative sanitizing solutions that will clean things up without cleaning you out!
UV Sterilizer Light Box with Dual Charging Port
Stay safe and healthy by sanitizing your smartphone, reusable masks, and more with the Portable UV Sterilizer Light by NuvoMed. The 360 degree ultraviolet light will eliminate germs quickly and effectively. In fact, it will kill up to 99.9% of germs and bacteria in less than 3 minutes!
Disinfect all of your items without harsh chemicals! This alternative sanitizing solutions is the most convenient way to sterilize your belongings to ensure that you're not transferring viruses and harmful bacteria around your home or public.
How Can I Sanitize Face Masks, Phones, and More?
You can place a range of items in this box such as face masks, eyewear, keys, wallet and of course your smartphone and electronic devices. It's also perfect for jewelry, coins, and plenty of other small items.
It also has 2 dual charging ports so you can charge up your devices too! That's right, it has the power to sanitize your belongings and charge your items all at the same time. It's great for charging earbuds, power banks, smartwatches and smartphones overnight.
The sleek portable design allows you to place it just about anywhere. Place the UV sterilizer light box on your foyer table, night stand or take it with you to the office.
Folding UV Sanitizing Wand
Keep you, your family, and your personal items, protected from harmful germs and viruses with the Folding UV Sanitizing Wand.
This handheld sanitizing wand uses powerful ultraviolet light to purify the air and disinfect any surface in seconds. It's the safe, eco-friendly, and effective way to kill 99.9% of germs! It's the perfect alternative sanitizing solution!
What Can the UV Sanitizing Wand Be Used On?
Use the UV Sanitizing Wand on faucet handles, door knobs, keyboards, cell phones, car keys and more. It's conveniently portable size let's you eliminate germs at home, the office, or on-the-go. Plus, you can fold it up and easily fit it into a purse, backpack, desk drawer, glove box – any place it might come in handy!
Is The UV Sanitizing Wand Easy to Use?
Operating the UV Sanitizing Wand is no trouble at all! To activate, simply move the switch to the on position. Then, once the light is on, slowly wave the wand back-and-forth 1 to 2 inches over the surface that is to be sanitized. When you're finished, switch the light off and close the bulb cover. It requires 4 AAA batteries (Not Included).
CAUTION: UV light can damage your eyes. Do not look directly at the light source.
Refillable Hand Sanitizer Dispensing Wristband
The Refillable Hand Sanitizing Dispensing Wristband is the epitome of alternative sanitizing solutions.
This ultralight stylish and wearable wristband is here to help keep hand sanitizer always accessible – especially for those of us that are always on-the-go!
With this convenient dispenser you can clean up and stay safe in seconds! Plus, there's no need to search for bottled sanitizer in a bag, purse or your pocket.
How Do You Use the Hand Sanitizer Dispensing Wristband?
Made of durable silicone, this PPE accessory allows you to fill it with the sanitizer of your choice, remove the plug, and dispense it just by pressing down of the top of the wristband.
How Do You Refill the Hand Sanitizer Dispensing Wristband?
It's as quick and easy to fill as it is to use! To fill, simply remove the plug found on the side of the band and insert hand sanitizer. To make sure that the liquid does fill the wristband a refillable bottle is included that fits into the reservoir so you can avoid spills and wasting valuable sanitizer. Once it's full you can firmly insert the plug and you're ready! NOTE: Hand Sanitizer is NOT included with purchase of the wrist strap.
It's ideal for both adults and kids; and it's especially handy for back to school, vacations, camping, trips to the store, and much more.
Portable Germicidal UV Sterilizer Wand with Powerbank
This Portable Ultraviolet Light Sterilizer is a great, chemical-free way to protect you and your family from germs and viruses. Equipped with a powerful, pure ultraviolet disinfection light that purifies the air and sterilizes any surface in just 3 minutes.
The Light works by effectively destroying harmful bacteria and virus DNA. Simply wave the light over the desired area slowly for 2-3 minutes. It is widely used in medical environments due to its high disinfection rate.
It is super easy to use and a highly convenient alternative sanitizing solution. With the UV Light, you can start sanitizing your home, bathroom, pet areas, vehicle and other personal items right away. There is no setup involved.
The UV lights are powered by a 2000mAh rechargeable battery that can also be used as a power bank for emergency charging your mobile devices. Fully charge the battery in 2-4 hours using the included USB cord.
The UV Light is very compact and lightweight and works for hours. The perfect handheld sanitizer for home use or anywhere you go like shopping, work, or travel.
For More…
Hopefully, these items will help to make things easier as we work our way through this stressful time. And for all of your PPE Product needs – visit PulseTV.com and the Masks & More Outlet, today!