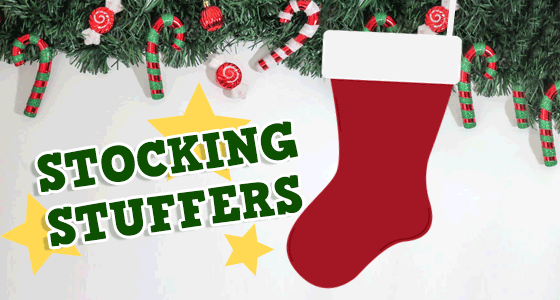 I'm excited to share over 70 items that are perfect Stocking Stuffers. These are items everyone will love to get AND you will love the savings!
Heck some of these are so good, you just might use them as main gifts!
$19.99 TODAY: $4.97
As a headache sufferer I would be thrilled to get one of these in my stocking. It is something I use all the time. I love it!
$19.99 TODAY: $8.25
A friend of mine has a Range Rover and I think it is so cool how the light projects down on the ground at night when he opens the door. It has never been easier to get this effect. Grab a set of these for the car afficianado on your list.
$29.99 TODAY: $6.88
Why grab the big vacuum to clean up a few crumbs when this awesome little mini one will do the job? Plus it can store in a drawer. Perfect for cleaning up table cloths after dinner. Also great for desks, couches and more.
$29.99 TODAY: $12.91
You may have seen this one selling on TV and in stores for $30… we've got it for this low price. What we love, love LOVE about this one is how it fits any phone and easily adjusts to any phone. Must see this video on how it works. It's fun!
$19.99 TODAY: $5.91
We sold this 2-pack for $20 when it first came out. I think the TV price was $30. Now you can get these glasses that will help reduce the blinding glare when you drive at night for our lowest price ever. See the over 50 great reviews.
$12.99 TODAY: $4.91
This WILL sell out! The tool that will make using and eating avocados easier than ever. Don't pay those high store prices, grab a bunch for the Avocado lovers in your life. They'll think of you every time they use it!
$29.99 TODAY: $4.91
You'll find this Electronic Stud Finder selling for $30 on Amazon… we've got a blowout deal and let me tell you every household and tool box needs one of these. It works on wood AND metal. If that wasn't enough included is a picture hanging kit… all for this low price!
These low-prices are under investigation… THEY'RE TOO LOW!
VISIT HERE to see the over 70 items discounted today.