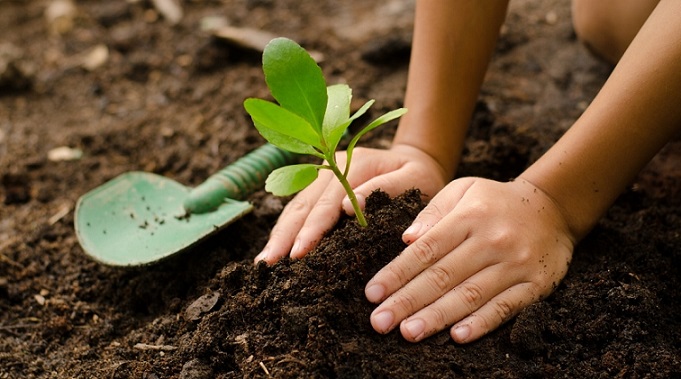 How green is your garden? How about your yard? Now is the perfect time to spruce up your yard and/or garden.
PulseTV is here with great products to help you with yardwork, decorating, and upgrading the great outdoors!
If you love to garden or know someone who loves to garden, don't wait to grab this special deal.
If you're like me you go through countless little shovels when planting, just to end up using your hands. That's why these are just ingenious! Now there's no need for a shovel just grab a pair of these Gardening Gloves w/ Claws and it will change the way you garden.
The unique design has "claws" on the right hand glove that allows you to dig and rake without using a garden tool. Plus the the fingers and palms of these durable gloves are waterproof, which a surprising number of garden gloves are not.
Durable enough to protect your hands, yet delicate enough to pick cherry tomatoes.

We made a deal direct with the manufacturer for all their overstock gloves. We've packaged them in our offices, in simple plastic bags, to ensure you get:
– 1 Pair of Gloves With Claws For Both Hands
– 2 Pair of Gloves With One Claw per Hand (could be left, could be right, could be one of each) .
These garden hose nozzles are everything you need for the yard and garden. Choose between 3 premium designs: Thumb Switch, Squeeze Handle, and the Green Dial nozzle.
The Thumb Switch and Squeeze Handle nozzles look similar, but the way they work are completely different. The Thumb Switch is ideal for those with Arthritis because all you have to do is adjust the lever to your desired pressure and voila!
The Squeeze Handle nozzle is your more traditional pistol grip nozzle. Luckily, there is a locking mechanism so you can relieve pressure from your hand. Both of these nozzles feature 8 water patterns.
The Green Dial nozzle features 7 unique water patterns and a lock. But what makes this stand out is the adjustable flow control knob to accommodate any watering activity.
These nozzles are leak proof, which prevents wasting water and sacrificing water pressure. Best of all, they all have a metal core, which not only feels good in your hands, but will ensure that these will last for years to come.
Are rodents ripping up your yard? Whether it's moles, gophers, shrews, voles or other small burrowing rodents, there's a simple, humane, and environmentally-friendly way to send these pests packing – the Solar Mole and Gopher Repelling Ground Stake!
This repeller device drives away unwanted burrowing rodents with the strongest and least expensive power available – the sun! It's solar-powered and maintenance-free; you just stake it into the ground, turn it on, and that's it.
You won't need to change batteries or plug in this environmentally-safe device. Best of all, it eliminates the use of poisons and traps that could harm pets and children. With one full charge you have up to 7 days of trouble-free power, even in unfavorable weather; just make sure you place it in direct sunlight. The solar panel is embedded in a watertight ABS plastic housing, with only a single switch inside to turn it on. It's truly is hassle-free!
HOW DOES IT WORK? The repeller produces a sonic pulse at 400Hz every 30 seconds. Rodents will find the noise irritating and eventually move elsewhere, but don't worry, your pets won't be affected. It's got a wide range of coverage with 6,000 sq. feet, but you'll probably want one for the front and back yard (when you buy more, you save more) so these pests get the message – GET OUT AND STAY OUT! And these won't be an eyesore in your yard or garden because the 'mow-over' design and the discreet green color helps it blend into any environment.
So take back your turf from unwanted varmints with the Solar Mole and Gopher Repelling Ground Stake today!
Up until a few years ago no one would ever say I had a green thumb. Now I've become the "plant whisperer" and anyone's dying plants that are given to me I "miraculously" bring them back to life.
The reason? The 3 in 1 Soil Meter lets me know exactly how to care for the plant(s). A soil meter is a must if you want healthy plants and it is what agriculture professionals and arborists use!
I actually bought an almost identical meter a few years ago at Home Depot (paid $17.99) and it has been the secret to my success… with both indoor and outdoor plants.
Here's Why You'll Love It
1. So simple to use and it works on all types of soil and dampness levels, and is accurate.
2. It has both a number scale but for me I just use the quick read color-coding on the dial. Red for dry, green for moist, and blue for wet.
3. There's no calibrating or prep necessary, and it gives an immediate reading.
4. No batteries, charging or outlets needed… It is ready to use right from the box.
The warm weather is here. It's time to wash the car, fill up the pool, power wash the deck and, of course, water the lawn and garden. But, man; it's such a hassle negotiating that heavy, kinked rubber hose. I can't stand it!
That's why I made the switch to the Hose Hero, a truly revolutionary new product that replaces one of those tools we use so often during the summer months. You may have seen ones like it on TV!
The benefits of the Hose Hero are endless compared to traditional hoses. It's lightweight, flexible, it doesn't kink; in fact, it hardly tangles. It features a leak-proof rubber interior hose encased in a SmartSteel shell that makes it virtually indestructible… seriously, in the video they take a chainsaw and flame thrower to it.
Now you might be asking yourself, if it's metal, doesn't it get hot? Nope! It has UV protection and stays cool to the touch even under the blistering sun.
Each hose is 25 ft., so I picked up three to link them together for 75 ft. Be sure to figure out how much length you need before ordering; you save more when you grab multiple.
With everything Hose Hero has in store and our incredible-deal on it, there's just no reason to keep dragging out that old rubber beast of a hose. Do yourself a favor, the summer heat doesn't need any help making you break a sweat!
These are just a few of the items available at PulseTV that can help with your home and garden. For more great products head over to PulseTV.com today!