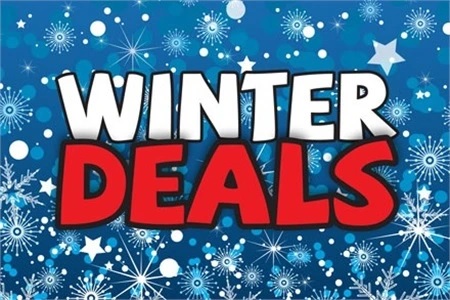 The weather might be cold outside, but at PulseTV – The Deals Are Hot, Hot, HOT!!!
We don't want you spending the winter months shivering with your teeth chattering, frozen, or endlessly scrapping ice of your vehicle's windows. That's why we have several items that will help to keep you warm and get through this frigid, frosty time of year!
Items like…
Plush-lined Knit Hat
Keep warm and toasty this winter with this fashionable Pom-pom Plush-lined Knit Hat!
This is BY FAR the warmest, softest and most stylish beanie we've ever had. It's super soft, plush lining that hugs your head nicely and doesn't allow any heat to escape. It's so comfortable and not itchy in the least. Plus, the material stretches so it can fit your head just right.
It also has a soft basket weave knit design that looks fantastic. Seriously, your friends, family, and co-workers will ask, "Hey where did you get that hat?" And it has a white faux fur pom-pom topper! It's so cute and very "in" right now.
There are a lot of similar beanies on the market but this one is something special… Especially at our low price!
Don't kicking yourself for spending too much money on other knit hats! Cover your head in comfort and warmth and grab this Plush-lined Knit Hat today!
Pinnacle All-In-One Ice Scraper and Flashlight
One way to escape to clutches of Old Man Winter is to have the right tools – tools like the Pinnacle All-In-One Ice Scraper and Flashlight!
With the cold, dark nights of winter here already, there's a good chance you're going to be scraping ice in the dark more than a few times. Especially since it's getting dark at 5.
What you need is the All-In-One Ice Scraper and Flashlight. That's right; an Ice Scraper Flashlight. You need an ice scraper anyway. Why not get one with a built-in light?
The scraper is manufactured with a durable polycarbonate plastic, which will make scraping quicker and easier. Plus, the handle has a soft-molded padded grip which makes it easier to handle. But the big feature is the bright 40-lumen flashlight.

Built right into the handle it shines THROUGH the clear plastic head so you can see exactly what you're doing on those cold, dark nights or early mornings. Three AAA batteries are included with the scraper already, so you're ready to go right out of the box.
Don't wait until you need it. The next time you're in a dark parking lot and you're trying to scrape ice in 10 degree weather you'll be glad you have All-In-One Ice Scraper and Flashlight! 
Black Fleece-lined Leggings
Feeling a little chilly? Then slip into something warm and comfy like the Fleece-lined Leggings by Britt's Knits!
These warm, form fitting leggings will become your new favorite pair especially during the cold months. They're seamless, breathable and the stretchy material hugs you in all the right places!
For available sizes check the product page HERE!
In most cases, leggings tend to have uncomfortable thin and pinching waist lines, but you will feel comfort with this pair. They have a generous 4″ waist-band which will give you a slimming look and won't roll down. So no more dealing with painful waist-bands, these will stay up and control your tummy.
But the best part about leggings is that you can dress them up or down! They're perfect for weekend brunches, the office, running errands or cozy nights in. They're full length and way better quality than what you would find in a department store. So act fast before they are gone! Order your pair of the Black Fleece-lined Leggings today!
Fleece Ear Muffs
This amazing item will have you all ears… literally!
For keeping your ears warm and toasty in cold weather without the inevitable 'hat head' that comes from wearing a stocking cap, you can't beat the comfort and style of Fleece Ear Muffs.
These soft and springy muffs are designed to wrap around the back of your head to keep your ears warm while still looking smart and sporty. Light weight and comfortable, these are a great winter accessory for skiing, riding, hiking or any cold weather activity.
Available in: Gray, Black, Brown, and Navy. SORRY NO COLOR CHOICE
If you want to avoid a little chill in a big way then order yourself a pair of the Fleece Ear Muffs today!
Fur Trapper Hat with Ear Flaps
Winter is a magical time of year. You can always look forward to sledding with friends, building a snowman, or engaging in a snowball fight. The only thing that ruins the good time are those freezing cold temps! Exposed skin can leave you vulnerable to frostbite and catching a cold, so listen to your mother's advice and don't leave home without a hat. More specifically, the Fur Trapper Hat with Ear Flaps!
Fashion meets functionality with this Trapper Hat! The cozy faux fur lining hugs your face to keep you warm all day long, but it's lightweight enough for everyday use. Stay toasty while walking the dog or waiting for your car to warm up.
You can wear it two different ways. Cover your ears by clipping it together beneath the chin, or fasten it to the top of the hat; essential for sledding, ice skating, or hunting. Either way, people have been relying on these Eskimo-style hats to keep warm for centuries!
These hats are made with 100% polyester and cruelty-free artificial fur. They provide plushy-soft warmth and the durable, water-resistant design will prevent too much snow from melting through the fabric.
You have your choice of color: brown, or black, and it's one-size-fits-most. It's a sure-fire way to take a stand against this season's frightful weather!
Don't freeze up and miss out on this amazing item available now for under $10! Click here and order yours today!
******
And for more great products for the wintertime, and for everyday, head over to PulseTV!