Yikes…have you seen the prices on things going up and up and the lack of products?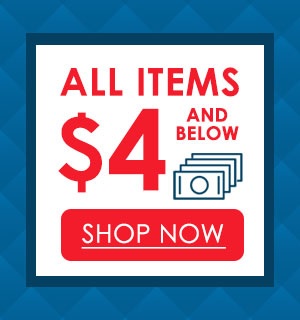 You have probably even experienced it when you are at the stores. I have never seen so many empty shelves on just about every type of item – that's what is happening here in Chicago. It's horrible!
We at PulseTV are very conscious of all the price increases and we've seen it. It is not just on products… shipping is skyrocketing with more increases announced for 2022!
We are pressing pause on raising prices and wanted to let you know about a really cool department on our site called Four Below… On the pages of this department we will feature all kinds of brand-new items that are priced $4 or less.
Below you can see some featured items, but I encourage you to visit here for over 50 items all under $4. Here's a sneak peek at what you will find on our 4 BELOW page, go ahead and take a second and take a look…
Foldable Flying Disc or Fan with Storage Bag… 99 CENTS
Heading out to the beach over the weekend, or hitting the park? Take one of these Foldable Flying Discs along to turn up the fun!
These 10″ Folding Flying Discs are thrown just like a normal frisbee. They are made of nylon making them lightweight and durable, easy to throw, fun to catch, and can be folded when not in use.
Each disc folds neatly into a flat 4″ x 4″ pouch (included), or can fit in your pocket, luggage, purse, or backpack – making them portable enough to be taken anywhere and everywhere.
These are prefect for any day out in the sun, and can even be doubled as a fan to cool you and your family down.
Great to bring along camping, to the beach, day at the park, or out in the backyard.
Mini Star Nightlight with Color Changing LEDs…$3.49
Add a touch of the galaxy to any darkened room! With the push of a button, this mini star nightlight projects beautiful stars in every direction. Even the ceiling produces stars and includes a crescent moon.
The best part is that it also features color-changing LED lights that automatically cycle for a great ambient light effect. It can be used with or without the brighter white stars projection.
Since there is no cord, you can place this anywhere: play table, nightstand, office desk, or even the floor. It requires 3 AA batteries (not included). It makes a great night light, for the kids or anyone that wants to see a dazzling star display.
Note: This unit does not have an AC port and only works with battery power. Also the markings along the side for the months that you can twist to select is not an accurate depiction of how the constellations look at that time of year.
Wide Angle Blind Spot Mirror for Cars…$3.99
The most stressful part of driving is checking my blind spot. I get so nervous when I have to take my eyes off of the road for any amount of time, and neglecting to check can be life threatening.
Now, there is finally a safe and simple answer! These wide angle blind spot mirrors broaden sight lines so I can tell if there's a hazard with just a glance.
Quickly craning my neck over my shoulder has led to so many muscle cramps, and there are even times when I have not checked to see if there was anyone in the way before changing lanes. This could have led to serious problems, and possibly death!
But ever since upgrading my car's mirrors, my driving experience has drastically changed for the better! No longer am I tense on the highway, because these are the perfect size for any side view mirror. They may be small, but they make a huge difference.
Buy a pair for yourself and those around you to make the road a safe place.
Handheld iPad and Tablet Holder…$1.99
With how expensive tablets are, you want to make sure you do not lose your grip. The Handheld iPad and Tablet Holder not only ensures you have a firm grip but also makes anything you do on a tablet much easier.
It simply attaches to the back of any tablet or iPad and provides a comfortable slot for your hand to fit. The best part is it works great for small and big hands.
If you are someone who uses a tablet on the go this is a must-have item.
Difeel Olive Hand Cream…$3.99
Your hands will applaud you after using today's featured deal for the Difeel Olive Hand Cream!
This is one of the best hand creams I have used in quite some time, and affordable. My hands went from dry and cracked to fabulous in just two applications!
If you are familiar with Crabtree & Evelyn products, you know how great their products are but they are more on the expensive side! The Difeel Olive Hand Cream is 'hands down' just as good as the Crabtree & Evelyn product line but at half the price.
Enriched with vitamins and nutrients that completely absorbs into your skin, so it won't leave that icky oily residue behind! It just leaves your hands feeling ultra-soft, and smelling absolutely fantastic! The scent is a subtle citrus scent that you will just love!
Formulated to soften the outer layers of the skin while still penetrating to the deeper inner levels. Gives your hands the perfect amount of hydration and nourishment, a youthful texture, and leaves your skin soft to the touch.
My hands have never felt so soft and hydrated. I keep a tube at my desk, and one at home. Don't believe me? Try it yourself, you won't be disappointed!
There is so many more items… Head on over to the site to shop and save!