Let's Celebrate! I'm Turning the Big 6-0
I'm Giving YOU A FREE Gift With Your Order!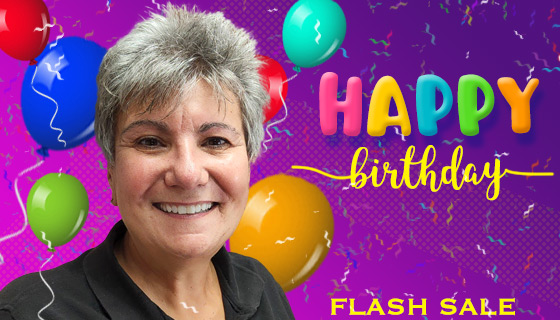 It's my birthday September 1st and I'm giving YOU a gift with your order for being a longtime customer.
This is besides the page of special deals I have set up on some of my favorite items. Every one on this page I own and love!
You've seen them selling similar ones on TV for $80! But here's the truth… these are bigger, better and come with a money back promise… if you don't love them, return them for a full refund. Oh yeah, your price is crazy low. You get all three for less than the price of just one on TV.
These sell out quickly whenever we get new stock. I use these when I'm biking or walking. I can listen to my tunes, but still hear everything going on around me. Super Safe and the sound is fantastic.
A game change and a super-low-price! If you are familiar with the Bissell Crosswave then you'll love this. A similar Bissell model with all these features sells for almost $500.Your price is just $125… but hurry stock sells out all the time.
It is the number one selling product in stores and on TV. But you'll pay almost double our price if you buy it there. See why this is everyone's favorite way of avoiding ID Theft!
Hands down the item that people buy more of after getting one. That's because this is the most awesome garage, closet, basement or workspace light ever!
I discovered this item when I needed to put together something I bought from IKEA. Now I use this for everything around the house. This may be the handiest tool set (that fits in the palm of your hand) ever! Plus You Won't Believe The Price!
I just bought this. I can't find my remote control since I've moved. I'm sure it is in a box somewhere, but this works great and is just $3.31! You'll pay $10 to $15 elsewhere.
I have so many more items on a couple of pages. Remember these are all I own, use and love!
VISIT for insane deals that can't be missed… and your FREE GIFT!