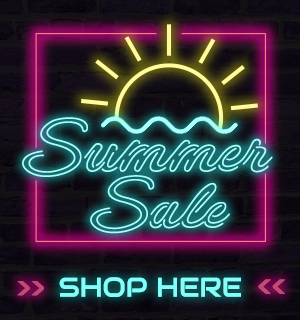 STOP everything you're doing because it's happening, and it's happening NOW…Our Summer Super Sale!
We have so many great items that are perfect for summer days and nights that we thought… "Why not have a super sale!" We've slashed prices left and right on some of our HOTTEST summer items!
There are well over 40 items discounted, but I do want to caution you some items have limited stock. Don't let these HUGE savings slip by!
Remember those personal sized coolers by Igloo? I would take mine fishing but I was never a big fan. I had to jam cans of soda and food all in one spot and my sandwich would get smashed and wet from the sweaty cans… Gross! That's why I'm excited to share today's deal with you, it's The Expandable Top Insulated Travel Cooler!
This spacious soft-sided insulated cooler is perfect to take with you camping, to a picnic, beach, sporting event or just about anywhere. Inside, you can comfortably fit 6 cans, a couple of water bottles and a small cooler pack. But don't you worry, there's a separate space on top to pack food and more!
The top compartment unzips and expands 3 inches so you can pack whatever dry food you want inside. There are also two mesh pockets on the side to store more water bottles or extra snacks. And on the front, there's two smaller zippered pockets where you can keep miscellaneous items in.
You can use this as a lunch box too for work or school! It's made out of a high-quality durable material and has a leak-proof lining. It also comes with an adjustable strap so you can carry it comfortably off your shoulder.
I'm telling ya, you're going to like this cooler way better than those smaller bulky hard shell ones. This one folds down quickly for easy storage. Plus, we have a great price on it so head on over to the site and grab one or two today!
Nothing ruins outdoor fun like flying insects. This is especially true when you're eating outside.
Simple, Safe, Effective. The Fly Fighter will end this problem for you AND it does so without any chemicals whatsoever!
I first saw these at an outdoor restaurant and was amazed at how well they worked and immediately decided this was something I wanted.
After a little research I found the manufacturer of the best-reviewed one and made a one-time deal. And what a deal it is! This same 2-Pack sells for $37 on Amazon but our price is just $15!
How and Why It Works. It is a lightweight, odor-free and whisper quiet, soft-blade fan that the constant motion inhibits the flying insects from getting close.
Then there's the holographic pattern on the blades bend the light (refraction) while spinning, creating an unnatural environment that disorient airborne insects. They see this disruption in light as a danger, and as such, will keep away!
Soft and Safe Blades. The blades are soft and safe around kids and pets. They simply stop if you put your hand in the path and you don't feel a thing! And remember, NO CHEMICALS!
There are so many things to love about the Fly Fighter, below is a partial list… but make sure you visit the site to watch the video And grab a couple while you can!
I first saw these Color Changing Landscape Lights when my neighbor had a landscaper redo her whole backyard.
I just love looking at her yard and night, it is gorgeous.
She actually introduced me to her landscaper. He did a few things for me but getting the lights like hers were out of my budget. He wanted to charge me $25 per light! I needed 14 of them so that would be way too much for me.
Imagine my surprise (and thrill) when one of our manufacturers sent us a sample of these that he was going to start making.
Since these are solar powered and come with the stakes installing them was easy. They are every bit as stunning as my neighbor's and at a fraction of the price. Now both of our yards are stunning!
I put these in my front along my driveway, but they can go anywhere you get a steady amount of sunlight. They are great for Gardens, Pathways, Pools, Patios and more…
Face masks have been the ultimate self-care product, but mark my words…foot peels are about to take over.
Our feet take a real beating everyday; walking, climbing stairs, working out – they go through a lot. If your feet are feeling dry and calloused then it's time to show them a little TLC with a foot peel mask.
You know how snakes shed their skin and have fresh new skin waiting beneath it? Yeah, it's basically like that.
Foot peels masks are a one-time application of a jelly-like mixture of exfoliating ingredients. You'll simply put the mask booties on, secure them with the sticker, and sit back for an hour while the mask does it's thing. Within a few days, your old, dead skin will shed to reveal the new skin underneath. Calluses be gone!
I'm going to be completely honest here, but let me start off by saying…the hype for foot peel masks is real! I want you to be aware of what to expect AFTER you tie those booties on.
The mask process is completely painless, your feet just sit in cold, gooey gel for 60 – 90 minutes. The peeling process is a bit startling. Believe it or not, it oddly satisfying to see the amount of dead skin peeling off your foot.
Yes, it's kind of gross but OH SO satisfying. It took me about 4 days for my feet to stop shedding, but once they did they looked and felt amazing. The results are WORTH IT!
Grab yourself a box today (includes 2 pairs), you will love it…so will your tootsies!
Our Summer Sale Event is On Like Donkey Kong… Click Here to head over to PulseTV and grab some summer essentials at a HUGE Discount TODAY!