We've just added NEW items to our 4 Below department and wanted to share some of a new finds with you today!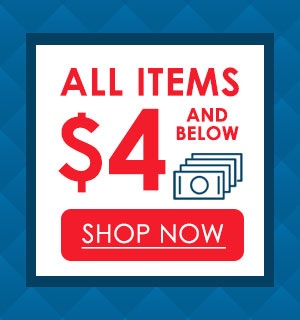 There really are some great finds here, and believe it or not there is something for everyone. You can find items like gift bags, flasks, hand cream, dvds, and so much more!
Here's a sneak peek at what you'll find on our 4 BELOW page, go ahead and take a second and take a look…
3000K Automatic LED Night Light w/ Interchangeable Face Plate… $3.99
Brighten your space with this LED Night Light with Interchangeable Covers.
Shining at a 3000K color temperature, your room will have a soothing warm light. The automatic dusk to dawn feature ensures light only when you need it, this not only will save you time but also energy.
Even during the day when it's off, I love looking at this elegant little plugin!
Using an energy-efficient LED, it goes on automatically in the dark thanks to a light sensor, giving you light went it is needed most!
The night light adds just the right amount of glow with a calming, warm white hue. It's great in dark hallways, bathrooms, kitchens, and of course kids' rooms. Even if you're not scared of the dark, the smooth glow will be a welcome sight at night!
Hurry, there is LESS than 200 of these left!
Metallic Gift Bags w/ Tissue Paper… $0.99
If I were you I would STOCK UP on these gorgeous metallic gift bags!
These aren't your typical gift bags, these are durable, lightweight, and water-resistant! Each bag has a black nylon carrying handles and even comes with tissue paper.
There are 4 different eye-catching colors available – Blue, Red, Green, and Silver – but sorry, NO COLOR CHOICE. Their bright, metallic color will certainly make your gift stand out!
These are great to keep on hand if you have a birthday, anniversary, house-warming, or another special occasion coming up! And for just under a buck… it's too good to pass up.
Stainless Steel 8oz Flask… $3.99
There are plenty of situations where you want that one shot of courage. For instance at concerts where you don't want to pay those high drink prices, when your in-laws show up without notice, or it's even perfect to bring your favorite spirit along while on a trail or traveling.
This flask is not only handsome in itself, but is perfect for any situation. Whether you're looking for one to fit comfortably in your back pocket, hide it in your suit jacket, or just looking for a multi-functional flask to let you keep your best booze for you only – this will cover all your needs!
It doesn't matter if you are warming up in the winter, or cooling down in the summer, this flask will keep your go-to drink close at hand.
7 Day Pill and Vitamin Organizer…  $0.99
This 7 Day Pill Organizer will store, organize and remind you to take your pills throughout the week! It has 7 spacious snap shut compartments that can fit small, medium, large pills and vitamins.
It's lightweight and portable, so you can take it with you on-the-go or leave it at home in your nightstand. The lids are easy to open and close and they're see through, which allows you to see if you already took your pills or not. Plus, each day of the week is labeled with large, easy to read print.
The Saturday and Sunday compartments are a little larger than the rest, so you can store extra pills there if you'd like.
Ronald Reagan – The Life and Legacy DVD… $3.91
This DVD is jam-packed with over 6 Hours of footage (on 2 DVD's) all about Ronald Reagan.
Examine the life and times of the 40th President of the United States, Ronald Wilson Reagan. This eight-part series follows Reagan, a small-town boy from the Mid-West who rose from the shadows of an alcoholic father to become one of the most influential figures of the 20th Century.
It's all here… From his humble beginnings as a radio announcer to the bright lights of Hollywood, his rise in politics which ushered in new era of conservative politics. This DVD collection is a must-have for history buffs, fans of former president, and even educators. Celebrate Our Nation's 40th President with this incredible deal!
Expandable Portable Clothes Hanger… $2.99
These hangers are designed to easily extend and retract so you can hang up your clothes inside your vehicle.
Simply pull the ends of the hanger out to extend the arms and then push them in to retract. The hanger extends out to full-size at 17″, and retracts down to 5.25″ for convenient storage.
A concealed hook is located on middle of the hanger. It can be rotated out for hanging and folded in when not in use. They're perfect for vacations, dry cleaning, business trips, commuting to work, and more!
Collapsible Friction Smartphone Stand… $0.49
Here's one handy phone accessory no desk should be without. It's the friction phone stand: a simple yet effective stand that props your phone up to a convenient angle so you can keep an eye out for text, take conference calls, watch videos or search the web.
It uses a semi-sticky friction pad to hold you phone in place, so there's no tricky brackets to operate. Just set your phone on it when you sit down, and grab it quickly and easily when you get up. There's enough room under the bottom of the phone to feed a charging cord in, too!
The cool thing about it is that if folds as flat as a… well, smartphone, so you can store it in a desk drawer or stick it in your backpack and take it with you to the office.
There are SO MANY more deals to be had! Get ready for better deals and better stuff at our 4 BELOW SALE… So make sure to head on over to PulseTV today and pickup some of these amazing items and more!