I'm so tired of skincare companies sending the message I look too old or it's time to cover up my wrinkles.
I'm almost 58 and well, I embrace it!
Aging isn't a dirty word, it is something to be celebrated.
This is the reason Third Age Skincare was created. I got tired of the message I was getting AND the exorbitant prices of good, high quality makeup.
Get ready for a whole new way of skincare. We worked two years perfecting our ingredients making sure they're made from good stuff! All the while being conscious of keeping prices down.
Today we are featuring our Stick Trio. All three work in harmony to accentuate your own natural beauty.
You'll love the convenience of these on-the-go sticks that are easy-to-use and replace many overpriced and not needed cosmetics.
Seriously this collection of our Boost Stick Color, Shimmer Stick and Renew Stick can replace everything else in your makeup bag!
Here's How:
Boost Color Stick is your all-in-one stick to use as blush, lipstick, highlighter and even eye shadow! Best thing? No matter what skin tone you are, Boost Stick Color will work for you!
Shimmer Stick adds luster and shimmer to your skin. Use it all over! Dab it on your eyelids, the sides of your eyes cheeks, temple, neck and your lips.
Renew Stick is rich, light and an oh so effective moisturizer! Use anywhere and everywhere like your face, neck, cuticles even the heels of your feet.
Best of all, EVERY stick is designed to enhance the beauty of ANY skin tone. From milky white to dark chocolate you'll love how it makes you look.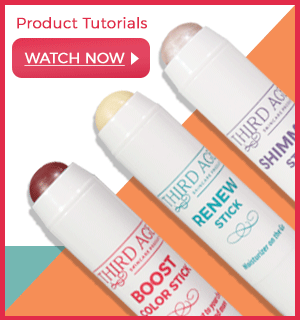 Features and Benefits:
– These 3 Sticks Replace Many Products
– Works on ALL Skin Tones
– Gluten-Free
– Paraben-Free
– Fragrance-Free
– Vegan Formula
– Cruelty-Free, No Animal Testing
– Free Carrying Bag w/ Order
– 100% No Risk, Money Back Promise
We want you to be completely satisfied with anything and everything you buy. See why these will be your favorite skincare products!