Spring is here, and that means it's time for The Annual Garage Sale Event.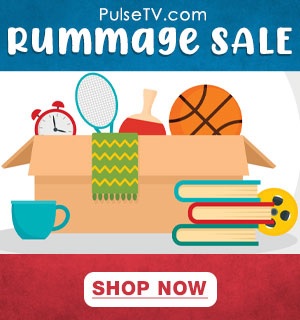 With everything that has happened this last year we want to make this sale extra special. We worked really hard to get some of your favorite items back in stock – some at barely above cost!
Plus, this year we have added many items that are being discounted for the first time ever. When you add those savings to Pulse TV's already low prices, you're saving a bundle.
Please don't wait on these deals though. Many items have limited quantities and are sure to sell out. Take a look below at a few of the deals we have for you.
Multi-Purpose Rugged Sport Backpack… $2.49
With all of us being stuck indoors for over a year, getting some outside time is something we all need. This Rugged Sport Backpack is perfect for any adventure.
If you like hiking or just being outdoors, this bag is a great choice. It's large enough to hold a wide variety of items like camping or survival gear. Plus, unlike cheaper packs, this one is built extra tough so it won't tear or rip apart.
Pack a picnic, load up some hiking gear, or it even makes a great overnight bag! Even if you're not the outdoor type, not to worry, there are still plenty of great uses for this backpack. And at the special price we have, why not grab a few?
6000 Lumen Triple Panel Garage and Ceiling Light… $24.99
You can't have a garage sale without a garage light, right? You'll never use another light in your garage again! No more dark garages, attics, storage rooms, closets, workshops… anywhere you put the Ultra-Bright Triple Panel Garage and Ceiling Light: 6000 Lumens, you'll swear it's daytime!
At 7.5 times brighter than a standard bulb, this light will illuminate ever inch of your garage. Don't be fooled by some of the other ones out there with a handful of LEDs – they aren't nearly as bright, and this one has a true verified brightness rating: 6,000 lumens!
Plus it has three movable panels to further direct the light right where you need it. Each panel pivots up to 90 degrees to angle the light exactly where it's needed. Even though it kind of looks like an alien spaceship – it works exactly like any other light bulb. It turns on and off with the flick of your switch, and you don't have to worry about wiring or calling the electrician.

Look at the reviews on this one – it's a 5 STAR product – and then order the Ultra-Bright Triple Panel Garage and Ceiling Light today!
PedEgg Powerball (Deluxe Kit)… $9.99
This is one of our Best-Sellers and it's no surprise because the Powerball is one of PedEgg's most advanced units. Effortlessly clear away rough skin and calluses at the touch of a button.
Not only do you get a great price, in the exclusive kit you get the rechargeable version which saves you a ton of money on batteries AND it is 40 percent more powerful.
As a bonus you get a set of toe-nail and nail clippers. These are ez grip clippers that will cut and trim even the thickest of nails. Heck our super low price would be great just to get these! I think it's time to treat yourself!
100 Mile Range Ultra-Thin HDTV Antenna… $7.99
More people than ever are finding out how much money they save by ditching their expensive cable bill for FREE-TV! Our TV Antenna is able to plug directly into your TV with no hassle (and no signups or pricey cable bills). 
You'll pick up free broadcast HDTV signals like ABC, CBS, NBC, PBS, Fox, Univision, and more, with this ultra thin indoor digital HDTV antenna – all in high definition quality up to 1080p. So many channels and never have to pay a bill!
In 30 seconds or less you can position the antenna by laying it flat on your table, attaching it to the wall behind the TV, or even to a window.
Unlike using your Firestick, Roku, or SmartTV, this antenna doesn't rely on your WiFi signal which can get clogged up by everything in your house connected to the router. It's also great for the RV, Boat, Dorm Room, Or Extra TV. Make sure you place an order for one of these TODAY!
And if you're looking for a last minute Mother's Day gift…
18kt Gold, Rose Gold, and Silver Huggie Earrings with Swarovski Crystals…$14.99
Jewelry always makes a great gift! And  what's even better is that these 18kt Gold Swarvoski Crystal Earrings are the perfect accessory for any outfit!
You will love that they are made with functionality in mind, making them easy to wear. Unlike most miniature hooped earrings that are difficult to put on, these bend open at the bottom, making it easier to take them in and out. This way, you don't need a steady hand or a mirror to help you put on your earrings.
And, because the "huggie" earring style is meant to fit your earlobe snugly, they won't sag or hurt your ear. These earrings are great for anyone who needs a little extra sparkle added to their look. They are the perfect accessory to subtly glam up an outfit for any occasion, while still looking modest! Plus, they make a great gift for a special occasion or person in your life.
The best part is the pricing! It won't cost you an arm and a leg to own genuine Swarvoski Crystals. And it comes with two color options of 18tk gold, 18kt rose gold, and silver (made from stainless-steel). If you wear these on a night out with friends and family, you will be raking in compliments all night.
Remember, with Rummage Sales – the early bird catches the worm. So don't wait on this sale, many items are selling out FAST!