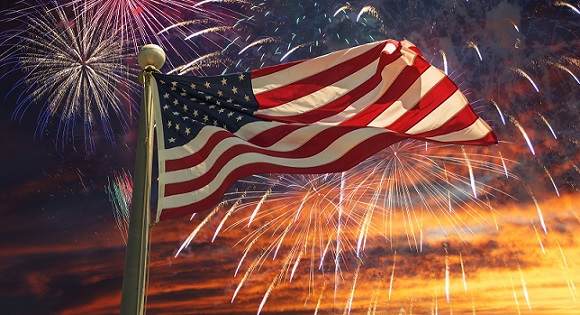 The Fourth of July is truly one of the most seminal days in US history. It's indeed America's birthday so get ready to celebrate in style with some patriotic picks from PulseTV!
The American flag was less than fifty years old when Alexander Annin began making US flags for merchant ships on the New York City waterfront in the 1820's.
Since that time Annin Flagmakers has grown and prospered along with our country. From a longstanding tradition of flying Annin flags at Presidential Inaugurations, to being raised across battlefields, and even going to the moon – the story of this company is interwoven with American History itself.
Today, we face a threat the likes of which we haven't seen in nearly 100 years. There has never been a more important moment in our lives to wave the symbol of our great nation and stand in solidarity with your neighbors. So if you're looking for an authentic American Flag that is actually made in the USA and won't break the bank… look no further!
This Full Size (3 ft x 5 ft) Screen Printed American Flag is 70% Polyester and 30% Cotton – making it super lightweight, yet durable – and makes a fine addition to any home or business. The finished canvas heading and long lasting rust-proof brass grommets make it easy to attach to virtually any flag pole.
Patriotic Americans will want to commemorate the heroes that make our country what it is today and flying this flag is a great testament to the first responders and front-line healthcare workers who risk their lives everyday to keep us safe. One thing is for certain…this flag will serve as a majestic reminder as it hangs in its place of honor or when billowing in the breeze.
On Feb. 23, 1945, during the Battle of Iwo Jima, six Marines planted the U.S. flag at the summit of Mount Suribachi.
The scene was photographed by journalist Joe Rosenthal of the Associated Press and his image soon became famous around the world.
This photo is instantly recognized for bravery and courage and now the iconic photo has been reproduced in a handsome, well-constructed aluminum sign.
With a combination of the black and white photo with the American flag in full color, this is one collectible piece of art. To make it stand out, the image is raised ever so slightly.
The Marines… The Few, The Proud…
Emblazoned on the sign is the U.S. Marine logo along with a quote:
COURAGE, is not only having the strength to go on,
COURAGE is going on when you don't have the strength
This handsome decoration looks great in an office, bar, restaurant, game room, rec room, dorm, man cave, garage and more. Plus the durability means you can even place it outdoors!
At 17 inch x 12 inches it is the perfect size and the pre-drilled holes in each corner make hanging this a breeze.
Makes A Meaningful Gift! History and WWII buffs alike will love this. Not to mention it is the perfect gift for your favorite Marine!
The problem with old style, traditional wallets is you tend to fill them up! My wallet was loaded with old receipts, expired coupons, business cards, and I don't even know what else – it was definitely time for a change!
There are lots of 'slim' wallets out there, but not all of them provide RFID protection (yes… it is possible to scan your credit card right through your pants) and NONE of them look as sleek and as stylish as this Carbon Fiber Minimalist Wallet.
Made of aviation aluminum and carbon fiber, this 'wallet' is designed with elastic bands that hold your bank cards, IDs and anything else you need tight and secure in a size that's slim enough to fit in your front or shirt pocket. There is also a money clip for keeping your cash together with your other items.
Two designs to choose from.
Personally I love the lenticular diamond design – it looks so high tech – but if you're looking for something more authentic a rustic-looking wood grain American flag design is also available.
There are designer slim wallets out there for 40, 50, even 60 dollars, but you get the same style, quality and protection with the Minimalist Steel Wallet for a low, low Deal price.
Before John Wayne died, he recorded a series of songs that were a loving tribute to the country he so loved. And now, through this special offer, 10 of these rousing songs have been digitally remastered and included in the one-of-a-kind audio. The Duke defined what America's values are all about and now this for the first time ever released you can own John Wayne's America.
The music is great, the words profound, as the one and only John Wayne takes us on a patriotic tour for the whole family. The Duke, one of America's finest, narrates the following:
America: Why I Love Her
The Hyphen
The People
An American Grows Up
Face The Flag
The Pledge Of Allegiance
Why Are You Marching, Son?
Taps
and more…
This John Wayne commemorative collection should be in every American's household.
We hope some of these products gave you a few ideas on how you can enhance your 4th of July celebrations. We want to wish you all a very Happy Independence Day from your PulseTV family, and don't forget to check back weekly for more new items!