Memorial Day Weekend is the official kick off the summer! It's time for barbecues, pool parties, camping trips, carnivals, and much more. I'm ready, are you?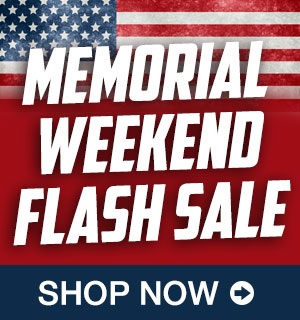 To celebrate the start of the season we are hosting our very FIRST Memorial Weekend Sale Event, and we are eager to share some great deals with you! I hope you are ready, there are some really HUGE savings here to take advantage of!
We have great deals on a wide array of items like Headphones, Fruit and Vegetable Juicer, Quick Relief Sports Rub, Copper Oven/Grill Mats, Silent Zees – Snore Relief System, and so much more!
Let's not waste anymore time…let's get right to it! Ready?
Here is just a sampling of some of the deals going on:
This is the perfect picnic companion. Enjoy superior sound from the twin 3W speakers instead of listening to your tiny phone. Use the built-in phone holder to share a romantic movie or watch funny video clips outside. It's large enough to fit even the biggest iPhones and small tablets like the iPad Mini.
While this is built with a rugged exterior, it is not waterproof, so we don't recommend using it at the beach or too close to the pool edge. But it's still safe to use on the patio, kitchen, living room, or office… anywhere you want a good quality speaker!
Carry the lightweight unit from the silicone strap, and the rechargeable battery means you can easily move it from room to room. Whether you're listening to bass-heavy music, podcasts, or audiobooks: the speaker quality is really good and you'll love how loud it gets (especially outside).
Built-in media keys let you control the music playback. Besides using your device's Bluetooth setting, you can plug in a USB Thumb Drive, Micro SD card, or 3.5mm AUX cord. It's truly versatile!
We are SUPER excited that we finally got these in! The Finishing Touch Flawless Brow Hair Remover is absolutely the perfect clean up tool for your eyebrows.
It's the painless way to upkeep the time between shaping, waxing, or threading your eyebrows. It completely eliminates the need to pluck, wax or thread my eyebrows ever again.
And if your sensitive skin can't handle that hot wax anymore… It's hypoallergenic, 18K Gold Plated and Dermatologist Approved! 
It's so easy to use too! You just hold it like a pencil and glide over the stray hairs around your brows to remove them with ease. And best of all, hair will not grow back thicker or darker. You will be left with soft, smooth skin. Trust me, you'll make the switch to the Flawless Brow. And get it for a low price during the Memorial Weekend Sale Event!
I don't know about you, but I always have such a hard time cleaning the inside of my windshield. But using the Long Handle Windshield Cleaner has made it so much easier for me, and it can for you, too!
The ergonomic angled and pivoting head makes it super easy! You can get all those hard to reach spots effortlessly. It's even great to use around your home on windows and mirrors.
The cleaning head is covered with a microfiber cloth that uses plain tap water for sparkling results. No glass cleaner needed. This is perfect for moisture removal not just for your vehicles, they are also great for the home & office use, too!
This has been a simple life-saver…get yours today for UNDER $3!

This is one of the hottest items available during the Memorial Weekend Sale Event! The Live Streaming Ring Light Kit has everything you need to live stream, film videos and take beautiful, well lit photos. Unlike others on the market, this one has 48 LED Lights with full control of color temperature! That means you can control the light from warm to white and anywhere in between.
But by far my favorite part is the lengthy adjustable dual gooseneck! You can angle the light any which way you want and it has a handy remote so you can control the brightness levels. Be sure to watch our video, it does a great job showing off what this kit can do.
And you can clip this light anywhere! On a table top, shelf, computer monitor or wherever you wish. You'll find yourself using this light all time for video conferences, zoom calls or for a quick selfie. And with this new LOW PRICE they will sell fast so grab yours today!
Encased in a protective but stylish green leather-like material, the Portfolio Folder Notebook, and Writing Journal is all you need to make a shopping list, jot down some quick notes, or journal the events of your day.
The notebook paper is a standard 6″ X 8″ tablet with 1/2″ portrait format line spacing. On the inside front cover, you'll find a convenient 4-pocket folder to store extra paper, business cards, identification, money, and other small items.
You can also store your favorite pen or pencil through the elastic loop on the center spine. If you run out of paper, no worries, the notebook size is one of the most common and standard tablet sizes.
Get Creative, Be Inspiring, Or Just Take Some Notes With A Professional With the Portfolio Folder Notebook And Writing Journal you can get creative, be inspired, or just write down your "To Do" list.
There are SO MANY more deals to be had! Get ready for Memorial Weekend Sale Event and make sure to head on over to PulseTV today and pickup some of these amazing items and more! And have great weekend!