Guys, it's that time again! We have a lot of overstock in the warehouse that we need to clear out for NEW products.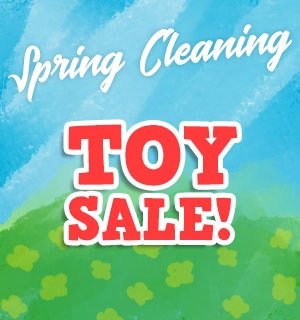 Whether you are in the hunt for great Easter Basket toys (yep, it's right around the corner), or planning ahead for birthdays, or stashing away future Christmas gifts, these amazing toy deals are too good to pass up!
This is a serious mistake for us to have this many toys! That means we are liquidating them and some are below what we paid. If you have ever needed to buy a toy THIS IS THE TIME.
Here is just a sampling of the items you'll see:
What on earth is a Wiggle Waggle Dog?
I didn't know either until I saw the demonstration myself! You've never seen a cuter robot dog with rubbery jiggly fur that wobbles as he scoots around! To start him off, just push his forehead and watch him go: he plays a song and barks too.
This hilarious jiggly, wiggly walking dog is a hoot to watch! Kids and adults alike are mesmerized by the fur, jaunty little tune, and wagging tail. I've even seen how much fun it is for other dogs to watch…
He works best on hard surfaces in your home, and runs on a pair of AA batteries (not included). He's recommend it for kids ages 5 and up, but I'm glad I still fall in that category! I got one to bring out at parties as a funny conversation starter.
Fun Fact: This jiggly, wiggly, walking pup is modeled after a Hungarian sheep dog!
Bring creativity to the table with this complete Slime Kit For Kids by Elmer's! This has everything a child needs to make their very own colorful slime creations.
What's Included: 2 color changing glues, blue color glue, pink translucent and clear glue. Plus, you'll also receive two bottles of Magical Liquid, which eliminates the need for lens solution and baking soda. This kit makes 5 batches of slime and best of all you can store it in a Ziplock bag or Tupperware and use it over and over again.
It also comes with a UV light so kids can use it on the color changing slime. They can draw whatever they want and it'll glow right before their eyes, it's so cool.
Kids will absolutely love creating their own slime with this kit and adults will want to join in on the fun too. Trust me, it's a big stress reliever. Slime has been an ongoing trend among kids because making it stimulates creativity and gives them a sense of control over their environment. And it's just so much fun to make! In fact, watch our video here to see how quick and easy it was for Anisa to make slime.
Coming across all of these bottles in stock at a store is not likely, and you'll probably over pay anyways… That's why I love this kit! We have a great deal but stock is limited on this kit and they will sell fast, so head to the site and grab one or two today.
Remember how fun it was to go to the arcade as a kid? You can recreate that experience at home and save a fortune in quarters, with the All-Star Tabletop Pinball Arcade Game!
This tabletop game is indeed compact, but it offers players electronic lights, sound effects and scoring just like your classic arcade style pinball machine. Launch your ball into action, watch as it ricochets off the bumpers and obstacles, and keep it in motion with the side flipper buttons.
It's endless fun trying to rack up as many points as you can on the easy-to-read LCD scoreboard. And when playtime is over use the "marble lock" feature to keep the ball stationary. It's designed for easy storage and portability – so you can take it with you to your next party – or even the office.
Before it's "GAME ON!" simply install the plastic legs, insert three C batteries (not included) into the base, switch it on, place it a flat surface (like a table or countertop) and enjoy the fun at your fingertips!
This game is a ball for both kids (Ages 4 and Up) and adults. Plus, it makes a perfect gift!
If the goal is to have fun you'll always score big with the All-Star Tabletop Pinball Arcade Game!
Here's the perfect item for all of my fellow fishing fanatics out there…
It's the Telescope Fishing Rod with Accessories!
This kit has everything you need to enjoy a day of fishing at the lake. It has a 6.5ft fishing pole and reel that can handle light to medium action. It's great for panfish such as perch, bluegill, crappie, bass and more. This rod collapses down like a telescope which is really cool and convenient while traveling.
It comes with an open face reel that has a spool release, drag adjuster and anti-reverse switch. It comes with some fishing line pre-spooled so you can start fishing right out of the box! It also comes with a bobber and 2 circle hook rigs.
It's great for beginners or a starter rod for kids. I keep one just like this in the trunk of my car in case I want to throw a line in somewhere in the spur of the moment. You never know when you'll spot a nice looking pond to fish at!
We have a small quantity of this fishing rod and accessory bundle kit so act fast and head to the site and grab yours today!
Take a few minutes and visit our Toy Liquidation Page and stock up while you can at the lowest prices ever:
Head on over to the site… have some fun and save some money and help us out!