Does anyone else go out after Christmas and still shop? I totally do.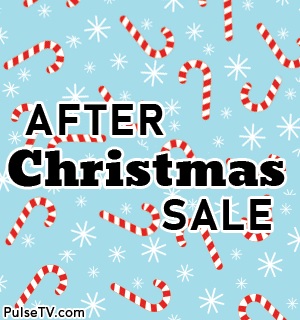 I LOVE hitting all the After Christmas Sale Events! It's the perfect time to save on all the overstock the stores have from their Christmas inventory.
Head on over to our BIG After Christmas Sale Event, and start your shopping. We have slashed our prices on a ton of our extra inventory. Socks, blankets, toys, electronics…just about everything. It's ALL gotta go.

I've hit our own sale, and have spent well over $50 – there are some really good savings here! Don't let this event pass you buy…there is Two FULL pages of deals.

When the colder weather hits there is nothing like being on a couch with a good book and a warm throw cover.
It's even better when the throw is stylish and super-soft and that's just what these are!
Featuring Plush fleece on one side and snuggly-soft sherpa fleece on the other, this ultra-plush throw brings a whole new level of comfort.
Timeless Style In Four Different Colors
Featuring four classic and iconic plaid designs, this will add timeless style to your home. Choose from: Aspen Plaid, Jiminey Gray, Peak Navy or Buffalo Plaid
Great to cuddle up with while, reading, watching TV, with a friend (even a fluffy one… my cat loves this!) and more. Plus the beautiful patterns look fantastic on any couch, chair, or bedspread.
You won't find anything like this in regular departments stores. This is made exclusively for high-end stores like Barney's, Saks Fifth Avenue and Neiman Marcus.
You will find yourself to be a very popular friend if you give one of these as a thoughtful gift – they'll think you spent a fortune.
This is one of the hottest selling items on Amazon right now and for good reason… It's a blast to play with!
What is it? This is a large play mat that has a special surface so when water hits it, the colors underneath pop out to create colorful works of art. It's like magic!
To get started all you have to do is fill the magic pen or brush with clean water and that's it. Kids can then draw whatever they want directly on the drawing mat. Then after 5 minutes or so the markings magically disappear and they can repeat the process. There's absolutely no ink involved whatsoever, the water does it all!
And this kit comes with sooo many drawing tools. It includes 2 markers, 2 brushes, a bunch of stamps, stencils and foam drawing molds. They even included a water magic drawing book. Best of all, the mat is large enough for multiple kids to play at once so it will keep them busy for hours.
Plus, it'll be a rewarding experience for you too because you'll get to watch your kids interact with this mat. It helps improve their cognitive ability, observation skills, imagination and creativity. There will be smiles all around! So head to the website and grab it today.
Are you looking for socks that will keep your feet warm and comfortable all year long? Then show your feet you care by slipping on a pair of the Merino Wool Socks by Timber Oak.
Merino Wool comes from a specific type of sheep that live in cold climates. Known for having the finest, softest fibers around, these socks combine the premium wool with polyester and spandex to give you not only a garment that feels comfortable on your feet, but it insulates in the winter and is breathable in the summer.
Unlike pure cotton, wool retains heat when wet and dries quicker, but the Merino Wool Socks take things a step further. These socks pull the moisture away from your feet while repelling it from the outside. Plus, they allow for your feet to breathe and gives you consistent temperature regulation.
And if your feet need support, these are the socks for you! Put them on and start enjoying the arch support, pressure relief, and stable footing. The long crew style and welt tops give you comfort and all-day support every time you put a pair on! We all know thicker socks can prevent blisters and help shoes fit better too.
We're offering a 2-pack in Sock Size: 10-13 (Shoe Size: 6-12); and they're available in 4 stylish colors: Light Gray, Dark Gray, Brown, and Green.
Nothing makes for a happy holiday season like a lit and decorated Christmas tree ready for old Saint Nick! It should always be on display during that most wonderful time of the year, but what can you do if you don't have the room for it? Now you can show your Christmas Spirit, no matter the space, with the Wall Hanging Christmas Tree.
This unique spin on a classic decoration is not only festive, it was designed with space-saving in mind. At only 3 feet tall this decorative tree is actually flat on the back side, where you'll find a loop, which allows you to hang it up and keep your floor clutter free for Christmas. This also comes in handy for keeping it out of the reach of kids and pets. And it definitely makes a nice addition to any home's holiday decor.
If you want to go the more traditional route you can use the included stand and place it on the floor, countertop, table, desk – just about anywhere! You can even use it to decorate the outside of your home, too!
Unlike most artificial trees, there's NO assembly required. This tree comes in 1 piece which features 50 pre-strung white LED lights that look beautiful when illuminated. The lights are simply operated with the on/off switch; and there's also a timer function. It runs on 3 AA batteries, so there's no having to deal with or tripping on electrical cords or wires. And the battery compartment can be conveniently hid out of sight between the branches.
Once the tree is on display, it's time to decorate! Have fun putting your own touch with a few ornaments and a little tinsel. Then switch the lights on and enjoy!
So don't let limited space make you have a blue Christmas. When the Wall Hanging Christmas Tree is up you'll always have a holly, jolly holiday!
This is just a small sampling what deals you can get…Head on over and start shopping!