Hey Gang! I'm back with the best of the best sale events…EVER!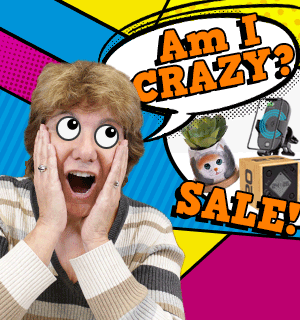 The office has been telling me that I have finally lost my marbles! I put together this sale event for ONLY our BEST customers, and everyone is saying my pricing is too low.
With prices go up on everything around us, I wanted to give our loyal customers a chance to buy some of our best selling items at the LOWEST price. And guess what…I did it!
Not sure how long this event will go on, it may abruptly end once the head honchos find out about this sale (oops, they don't know yet).
I've put a whole bunch of items on sale, most of these I own and I love… make sure when you visit the page you also look at what is on page two. This is the biggest sale of the year!
There are over 40 items, but many will sell out very fast!. Here is a sampling:
Yes, this is a crazy deal! But what makes it even more so is that we sold a machine for over $145.00 and this one does many of the same things all for this low price.
The advanced design of this EMS Foot Therapy Massager will have you feeling less pain, swelling and fatigue in your feet.
There are few devices on the market that have EMS technology at this low of a price. EMS has been used for years for both rehabilitation and athletic training.
The electrical impulses from an EMS machine improves blood circulation and muscle strength while alleviating aches, pains, soreness, stiffness, swelling and fatigue.
Years of research and development have been spent in developing this portable, lightweight unit. It has been specially designed to deliver a similar experience to the machines used in clinics and therapy outlets but in the comfort of your own home.
Why take chances with your safety when adding security is so easy? A dark doorway or the inky black shadow behind the garage is the perfect place for a prowler to hide. So take away their hiding spot with a bright, 300 lumen spotlight! You don't need an electrician and you don't need extra wiring. All you need is a Night Beam Solar Powered Spotlight by Farpoint.
Similar to our best-selling Solar-Powered Outdoor Security Light, the Night Beam Spotlight is a weatherproof, security lighting option that is affordable, easy-to-install, fully automatic, and best of all requires no batteries or wiring.
Install it wherever you need extra lighting and the solar panel will charge the 3.7V Lithium ion battery. Once it gets dark, the motion sensor will trigger a bright, 300 lumen spotlight when anything passes within 32 feet of the sensor. The light will shut off after 30 seconds if no motion is detected. But even when the light is off, a blinking red LED feature turns on to give the impression that the light is also recording.
And it's not just for giving prowlers second thoughts. You will never have to park in the dark again and stumbling around in a dark doorway will be a thing of the past.
These universal stretchy silicone food wraps are changing the leftover game! The impressive CoverBlubber forms and clings to foods and containers… and you can use them over and over.
Did you know most plastic wraps are NOT even food safe? They don't recommend using them directly on food. The CoverBlubber Material is FDA Food-Safe, and BPA-Free so you can apply it right on to all kinds of fruits and vegetables.
Use on a pineapple, half a banana, lemons, cucumbers, peppers, tomatoes, avocados, even a stick of half-used butter. It's even stretchy and durable enough to cover small watermelons!
Besides using to store items in the fridge, you can also use it instead of lids for your containers. I hate trying to find the right tupperware top, and this makes it so much easier for prep bowls and leftovers in the fridge or freezer.
Stay eco-friendly by reusing these over and over again: simply wash them with soap and water after use and they're ready to go for next time.
This multi 4pk contains 4 different color-coded wraps in different sizes. Every kitchen should have at least one set of these, you will see how much easier it makes food storage after one meal!
Whether you spend a little or a lot of time in the car, chances are you need to charge something.
That is why I love this Power Inverter by Zenith, it has more than enough power for all of my devices. It has two standard AC power outlets that I use for my fast home phone charger and for powering my laptop when working on the go.
If the AC outlets are not enough, there is also four powered USB outlets too. These can charge all of your mobile things like phones, tablets, game devices and much more!
What I really love is you can use all the AC and USB ports together and at the same time. There is even a really neat Digital display that shows how much power the USB ports are putting out.
Best of all this is made by Zenith! That means it's well made, reliable and has every safety feature possible!
See these and SO MUCH MORE by visiting our site. Remember we have over 40 blowout deals, but many of these will sell out fast – So don't wait! Because you will go crazy if you miss out on these crazy deals!
This exclusive event is not to be missed – a chance to save more than ever!