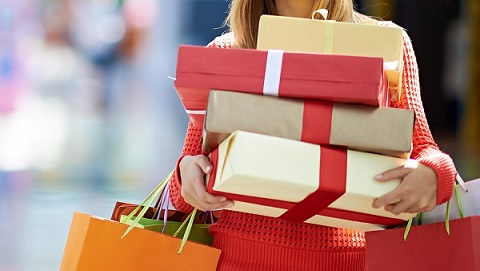 Can you believe it's FINALLY HERE…the Holiday Shopping Season!
We have worked our tails off scoring exclusive products, and slashing prices left & right just for this sale event. However some of these items have limited stock and could sell out at any time…even today!
There are so many MORE deals that we couldn't list them all. Do yourself and your wallet a favor and spend some time on this page of extreme deals.
Smart Activity Bracelet W/ Live Body Temperature Tracking
After the holidays, when it's time to get into shape thanks to New Year's Resolutions, the Smart Activity Bracelet is the gift that keeps on giving! – Plus, it's a must-have in the time of COVID! Monitor things like steps, calories burned, heart rate, blood pressure, blood oxygen levels, and even your sleep and fatigue. Plus the main screen gives you a whole bunch of useful information you can see at just a glance. You'll see the time and date, your current body temperature, heart rate, and your total amount of steps taken for the day. Plus the screen on this activity tracker is in full color so all the information stands out to be easily read.
Navigating the menus is super easy thanks to the ultra-responsive touchscreen sensor. You'll feel a little notch on the lower part of the screen, that is where you touch to navigate. You can either swipe over it or tap it. When you want to make a selection or go into a menu, simply hold your finger to the touch sensor.
Included with the tracker is the "Wearfit 2.0" App. When you connect your phone via Bluetooth, your health data will be logged by the app so you can track your health readings and progress over time. This is also where you'll find the sleep and fatigue monitors. And since the tracker is already connected to your phone, it will receive and display your phone's text messages. If you're having trouble locating your phone, you can also activate the "Find My Phone" feature. This will sound an alarm on the phone so it can be found.
There is so much this activity tracker can do, and it'll definitely be your new favorite gadget. And it'll make a great holiday gift!
Bluetooth Light-Up Multimedia Speaker
These are maybe the coolest speakers we've ever sold – there's just nothing like them out there on the market. This slick, modern speaker boasts some of the best sound ever, multiple ways to play your music, and top features like True Wireless compatibility!
This is a fantastic sounding Bluetooth speaker. Connect to your phone, computer, tablet and more to listen to your audio wirelessly. Built-in media controls let you skip tracks and alter the volume even if your phone is across the room. You can also play music via USB Drive, Micro SD Card, or Aux Cord.
But here's the best part…
If you pick up another one of these speakers, you can actually pair them together for a True Wireless combo! That's right, two can pair up to one another so you can have surround sound throughout an entire room or rooms. See how easy it is in our video here.
As great as the speaker looks – it sounds even better. Whether you're listening to your music with booming bass, or watching a webinar at your desktop: crisp vocals will come through. I've used these speakers for my gaming computer, listening to a Podcast and relaxing with some smooth jazz… they all sound amazing through the speakers.
LightSpeed RC Sport Car
The holidays are coming up fast and the little speed demon on your shopping list wants a Light Speed Illuminated Remote Control Sports Car, I promise!
It's hard to go wrong with a remote control toy, but the Light Speed is not your average RC race car. First it's a BIG 1:20 scale. That puts it at over 8 inches long. Big enough to take outside on the sidewalk. It even has rubberized wheels which are awesome for taking corners and running through obstacles.
But the Light Speed doesn't just have size on it's side. It also lights up with an LED display. Just flip the switch on the bottom of the toy and you go from the coolest RC car on the block to a suped-up night rider lit up in red, green and blue flashing lights. Makes night racing a whole lot more exciting. Even the remote control lights up!
The controls are simple and intuitive. You'll be racing 2 minutes after you have the car out of the box. In fact, I recommend you get 2 so you can have a race around the dining room table. All you need are 6 AA Batteries (4 for the car and 2 for the remote).
Speed, maneuverability and lots of dazzling, LED lights make this a toy kids, and adults who are kids at heart, are going to go crazy for.
AIR3 True Wireless Airbuds with Executive Charging Case
True Wireless Headphones that ditch the cords completely are the latest and greatest, and we've got a top-of-the-line set here with all the bells and whistles. These AIR3 Airbuds look, sound, and feel amazing!
From the moment you take them out of the handsome gift box, you'll notice the slick, matte-black case and matching earbuds have an etched texture finish that look and feel luxurious. Make sure you watch our video – we tried to get this across, but they definitely look better in person!
Unlike so many cheaper ones out there, these are foolproof: they come pre-paired right out of the box, so you just have to charge them up and pair them to your phone. Using the latest Bluetooth 5.0, they're more efficient than ever to save battery life and ensure a strong connection.
Once paired up, innovative touch panels on the earbuds give you full control over your music, podcast, or audiobook listening. And don't worry about some light rain during a jog: they're IPx4 Water-Resistant!
They also sound great – the company's signature sound is customized to increase deep bass for music, and deliver crisp-clear vocals across all volumes without distortion.
For More Great Deals…
There's so many more items that I can't write about them all. Just VISIT PULSETV to see what's on sale today! Then check back frequently because we are always adding NEW items. Happy Shopping!