Finally…Cyber Monday is Here! Discounts as much as 90%

Who's Ready For Our Cyber Monday Sales Event?
This year we have some of the best deals available, and we are excited to share all of our great finds with you!
We have everything; toys, computer gadgets, fashion, electronics. We are sure you will find something for everyone on your shopping list (and even a few items for yourself). Some of the stock is limited, so I recommend not waiting to order.
Here is a sampling of what you can find in our Cyber Monday Sales Event:
$15.88 TODAY: $15.88

This top-of-the-line pair of True Wireless Earbuds are loaded with the best features for enjoying a truly great audio experience. The sound quality alone is fantastic, but it also features an impressive 3-way selection for different Active Noise Cancelling (ANC) Modes.
$19.99 TODAY: $7.49

Strong Durability, Wide Compatibility, and Ergonomically Designed for Better Work and Play! The streamlined curved, ergonomic design makes this mouse fit right in the palm of your hand, which greatly reduces wrist pressure. The symmetrical design for left/right hand use makes use easier and more comfortable!
$39.99 TODAY: $24.99

On your marks, get set, RACE! You're going to be burning rubber with the RC Spray Racer! Kids of all ages love remote control cars, and this modern take is no exception. The realistic engine sound effects will put you behind the wheel, turning your neighborhood into a certified race track! Super FUN toy this season…Trust Us!
$14.99 TODAY: $5.99

These scrapers are manufactured with a durable polycarbonate plastic, which will make scraping quicker and easier. Plus, the handle has a soft-molded padded grip which makes it easier to handle. But the big feature is the bright 40-lumen flashlight.
NEW ARRIVAL ANNOUNCEMENT:
$15.99 TODAY: $7.99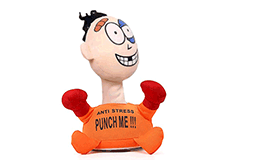 Take away office stress by hitting this table top punching doll. Great for your desk, counter at home, or anywhere else you tend to get stressed out. Perfect gift for anyone that gets a little riled up and needs a little fun to cheer them up.
There are so many MORE deals that we couldn't list them all. Do yourself and your wallet a favor and spend some time on this page of extreme deals. We have some of the best deals you've seen all year long.