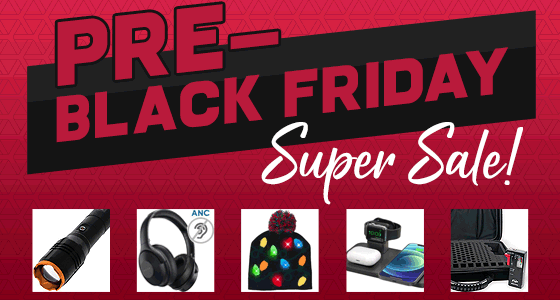 You are going to love all the deals we have for you today!
Being one of our VIP customers, you've been granted early access to some of our Black Friday deals. Thus far we have over 40 products on sale… with savings as much as 90 percent!
From electronics to toys and everything in between, you're going to love all the savings.
Move over BOSE, we've got these premium over-the-ear headphones for a steal. At this low price, they won't last long!
We are blowing off the doors with this low price that is BELOW wholesale cost!
Words simply cannot describe how gorgeous this collectible set is. I bought four of these myself to give as gifts. MUST SEE VIDEO!

The Big Daddy of flashlights is back! We've never sold it at this low of a price. Stock up as this makes for a gift that will be cherished for years!
Looking for the perfect gift for the coffee lover in your life? Look no further! This turns a regular cup of coffee into the extraordinary! Sorry Starbucks, your prices are just too high, I'm going to froth on my own!
The whole office is mad in love with this clever duck! Kids and adults alike will have hours of fun. See our fun video.
Fun Fact… well Gross Fact… your phone has more germs and bacteria on it than a toilet seat! Here's a sure-fire way to eliminate germs, bacteria and viruses. With a wave of this USB-C Wand!
And no, this isn't a misprint, we are selling them for just 99 cents. This is $10 below our cost. Just 1,000 will be sold at this price.
Early access to our biggest deals of the year… stock up and save
VISIT HERE FOR SAVINGS YOU WON'T BELIEVE!