Can you feel it? Spring is in the air! That's right, winter is nothing but a bitter-cold memory and we are moving on to fresh flowers, warm temperatures, and deals like you have never seen!
Much li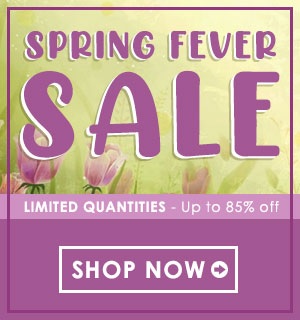 ke you, PulseTV has got the spring fever and that is why we are kicking this season off with our Spring Fever Sale!
There are all kinds of items to choose from. We've got night lights, grilling tools, road trip accessories, and so much more!
Take a second and swing by and see all the HUGE savings to be had…there is something for everyone here. I've personally grabbed about 20 of these sale items for myself or to give to friends and family.
Just a friendly reminder, some of these items have limited stock and will be sure sell out quick. Don't wait, start your shopping now!
Super Safe Stone Block Grill Cleaner
Heck yeah…grilling season is fast approaching! Here's one of our customers favorite items…The Safe Stone Grill Cleaner.
You are going to love these. It conforms to all grill surfaces and cleans your grills 4X faster than wire brushes. Use it on hot or cold grill surfaces.
Best thing is it is SAFE! Both because it's bristle free and made of Pumice Stone, an all-natural cleaner that's non-toxic and safe around kids and pets. Plus using this keeps your grill free from harmful bacteria attracted by food particles.
So easy to use… After just a little bit of use, the pumice brick conforms to any surface to clean between the grates. It works on Porcelain, Stainless-Steel, Iron and other grates – of any size!
Once you use one of these, you will never go back to bristle brushes…that's a fact!
The Original Chilly Hat – With Evaporative Cooling Liner and Reflective UV Brim
The Chilly Hat is the go-to hat for beating the heat! First of all, the inner cooling lining has hyper-evaporative technology made to literally cool you down as it slowly dries. Just soak it, shake it, and feel up to 20 degrees cooler than the outside temps!
On the outside of the hat, you'll notice a shiny, reflective covering that protects you from 99% of the sun's harmful UV rays. It bounces it right off your head, keeping you cool!
The wide brim also shades almost all of your head, face, and neck to prevent sunburns. Ventilated mesh sides make it breathable and very comfortable to wear for long periods of time.
An adjustable strap secures the hat against sudden wind gusts and its unisex design will suit just about anyone.
Wear the Chilly Hat for ALL outdoor activities: camping, boating, fishing, beach trips, yardwork, walking, golfing, and more. Basically if you want to keep cool and stay protected from the sun: get the Chilly Hat!
Foldable Thermal Cooler Tote Bag
You're going to love this Foldable Thermal Tote Bag! I use it every time I go to the grocery store, I love it THAT much. It's perfect for keeping my perishable items like milk, cheese, meat, and frozen meals, cool while I'm driving home.
Unlike the bags these stores sell, ours has a flat foldable bottom (with a plastic insert for stability), a zipper on top, and a foil-lined interior. This insulates the bag, keeping your items cool and secure inside.
That means the pint of ice cream will stay frozen on the car ride home this summer!
I like to keep a few of these bags in my car so I never forget them when I go shopping. Because of their foldable structure, they lay flat and fit perfectly under the seats in my car, or in a side compartment in my trunk.
But you can use them for much more than groceries! If you're hosting a barbecue with family, having an impromptu beach day, or planning a picnic at the park, this bag is the perfect accessory. There's plenty of room for full meals and snacks, even a bottle of wine.
So many states are banning those thin plastic grocery bags, and this is a much more eco-friendly version of the flimsy brown paper bag. I love the convenience of these reusable thermal bags and I know you will use these over and over again!
3-Way Ultra Sonic Home Protector
Springtime brings on the critters – So it's time to protect your home from invasive household pests with the 3-Way Ultrasonic Home Protector.
It uses Ultrasonic Sound Waves instead of harmful chemicals or disgusting glue traps with poison. All you do is set the 3-way switch to the mode that you need. Green for Mice, Red for Roaches, and Yellow for Mosquitoes. Each unit provides an impressive coverage rage of 300 square feet to not only drive pests away but also keep them from coming back.
And if you're worried about the device driving you and your pets crazy… Worry not! Even though powerful sound waves burst out in 5-second intervals, the sound can't be heard by humans or pets. Use it in the backyard, in your garage, under the kitchen cabinet, anywhere you want protection you got it!
No matter what time of year it is pests try to make your home theirs. Let them know your house isn't for rent with the 3-Way Ultrasonic Home Protector. It's the most eco-friendly pest protection anywhere!
Rain Poncho Balls
It can't be spring without a few rain showers. So don't fear the forecast! These rainy day poncho balls are here and ready to keep you dry!
Compact and lightweight, the ingenious design will have you grabbing a dozen. Each poncho is inside of a plastic ball. It has a handy clip on it that allows you to fasten it to bags, backpacks, purses, belts and more.
Each compact 2 1/2″ diameter twist-open ball conveniently stores an adult sized poncho.
You can clip this to a backpack, purse even a belt loop. No big bulky umbrella to carry around.
I promise everyone you know could use this wonderful little item. You can save a bunch more when you buy more too.
There are SO MANY more deals to be had! So make sure to head on over to PulseTV today and pickup some of these amazing items, and more, during our Spring Fever Sale!