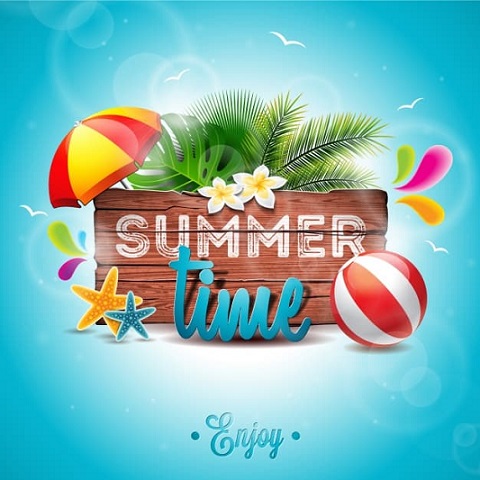 It's not summer yet, but it's getting close. The days are getting longer, the weather is getting hotter, and before you know it we will be right in the middle of that glorious season when life just seems a little bit more fun. But are you ready to take advantage of everything summer has to offer? You'll get a lot more out of those long, sunny summer days if you are equipped with a few of these fun products.
Every pool party and back yard cookout is more fun with your favorite tunes playing in the background. And what you need for that is a good quality speaker that you can connect to your smartphone or tablet wherever you are. The Sonorous BLUETOOTH Speaker delivers powerful HD sound at an affordable price. This high-end portable speaker will stream all of your favorite music and pairs instantly with any Bluetooth enabled device such as smartphones, tablets, & computers for wireless streaming from up to 30 ft away. Perfect for listening to your tunes around the house, outdoors, poolside, camping, and more!
Do you love the summer breeze and the smell of the outdoors but hate dealing with all of the bugs? Well, take a breath of fresh air in and keep insects, mosquitos, and flies out with this magnetic mesh screen door. Simply peel & stick the adhesive strips to your door frame and affix the Mag-Mesh for quick installation and removal. The middle seam of the screen netting is strategically lined with powerful magnet strips that allow the door to open and close seamlessly. The screen net will let the summer breeze in and keep annoying bugs out!
Summer just wouldn't be complete without a stretch of emerald green lawn and a vegetable garden loaded with plump tomatoes and peppers! And that takes a lot of water. So make sure you have a garden hose that will stand up to all the work you're going to give it this summer. The Hose Hero is a revolutionary metal garden hose will take the hassle out of yard work. As compared to normal hoses, the Hose Hero is virtually indestructible, light weight, kink-free and it stays cool to the touch even under the blister sun. One hose is 25 ft. long, you can connect as many as you need. Grab two or more!
And you're going to need a nozzle to connect to the end of your hose. The Gilmour Pro Hose Nozzle is the perfect tool to have on hand for when you need to water your lawn, garden or even wash your car. This nozzle is sleek, compact but powerful! It's also easy to handle and the precision angled design allows you to aim the nozzle in any direction. It's made out of a heavy duty metal construction and there are 3 modes to cycle through: Jet, shower and sweep. It also features a thumb-controlled water flow adjuster lever, making it easier on the hands. No more constantly squeezing a trigger!
If there is one defining quality of summer it's that it's H-O-T! That's great when you're actually IN the pool, but when you're walking, biking, gardening, or any other outdoor activity the heat can get a little uncomfortable. So cool yourself down any time, anywhere with a Chilly Ice Towel. To use, just soak the towel with any temperature water, wring it to dry and shake it! As the water evaporates, the towel drops in temperature, instantly getting cold and lasting for hours! Conveniently, the towel can be reused over and over again; just re-wet to start the process!
So don't miss another incredible summer by locking yourself up inside. Pick up a few fun summer toys at PulseTV and get out there and enjoy the weather!