People contact customer service for various reasons: Questions about products, return policy, ordering, and so much more.
That's why PulseTV's dedicated staff is always here to help you, plus we want to makes sure you have information at your finger tips through our site.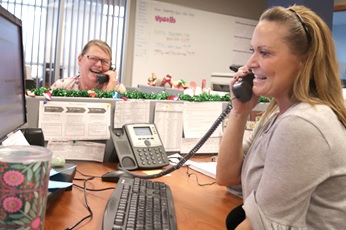 You can reach our Customer Service team Mon – Fri , 8am to 5pm CST, in a several different ways:
EMAIL US: Create A Customer Service Ticket
CALL US: 800-711-1361  to leave a Voicemail and/or Answering service options after hours.
CHAT WITH US: Live Chat  [Online]
WRITE TO US:
PulseTV.com
7851 185th Street
Suite 106
Tinley Park, IL. 60477
On Our FAQ page you will find answers to questions such as:
•    Is Your Website Secure?
•    What Credit Cards Do You Accept?
•    Do You Take PayPal?
•    Can I Pay By Check Or Money Order?
•    Can I Place My Order By Phone?
•    Why Am I Being Charged Sales Tax?
•    How Does PulseTV Ship Its Orders?
•    What Is Your Privacy Policy?
•    I Completed My Order But Did Not Receive An Email Confirmation?
•    Why Did I Receive More Than 1 Email Confirmation?
•    What Is Your Return Policy?
•    What Do I Do If My Order Is Incomplete, Incorrect Or Damaged?
•    What Is This California Prop 65 All About?
•    What Are Your Shipping Charges?
•    Why Are Your Shipping & Handling Charges So High?
•    I Am Having Trouble Viewing Text In One Of Your Screens.
•    How Can I Unsubscribe From Receiving Emails From PulseTV?
•    Can I Buy 500 Or 1000 Of An Item?
•    How Can I Get Text Deals?
•    What If I Need Instructions Or More Help To Use A Product?
•    Where Can I Find Answers To Questions About A Specific Product?
If you have purchased a product from PulseTV and have questions on its use, assembly, and more, you may find the manual, and help, through our site's Instruction Manual page.
Sometimes there are little tricks and tips we have learned about products not shown on MFG packaging or instructions. We try to put those on the product FAQ page, like our Handy Can Opener.
As you can see, PulseTV is always ready to help all of our customers no matter what the question or concern may be.