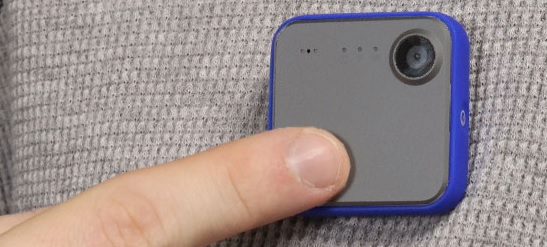 These days, action cameras are all the rage! With social media use at an all-time high, and the general public video recording outings, interactions, and other various occasions, using the camera on ones' phone just might not be enough to feed the need.
This has made the "Action Camera" the latest hot commodity! I'm sure you're asking yourself, "What's an Action Camera?"
What's an Action Camera?
According to Wikipedia, an action camera, "or action-cam, is a digital camera designed for recording action while being immersed in it. Action cameras are therefore typically compact and rugged, and waterproof at surface-level."
What the aforementioned definition failed to mention is that they are also "wearable."
Wearable Camera
For constant, uninterrupted use you must go with the best wearable camera on the market – the iON SnapCam Wearable HD Camera.
The SnapCam by iON is the action camera for the casual photographer or videographer. This wearable camera snaps photos and captures HD video footage. It's great for vacationers documenting their trips, instructors capturing hands-on tutorials or YouTubers looking for an easy, portable way to gather content.
The videos and photos are crystal clear, and files are easy to transfer. Simply plug the SnapCam into your computer with the included micro USB cord and then just drag and drop! From there, you can do with them what you want.
Action Camera Body Mount
There are two ways to wear the SnapCam. The back of the camera is magnetic, and it comes with two magnetic plates. One is a flat plate that you can use to magnetize the camera through the fabric anywhere on your shirt. The other plate has a clip for affixing it to a collar, pocket or purse strap.
To take a photo, just tap the front of the SnapCam once, or tap twice to take a video. It's that simple!
The biggest reason that we are getting such a great deal on this is because the app that goes along with the SnapCam brand doesn't support this model anymore. Luckily you don't need it! The SnapCam works as a stand-alone wearable action cam that records directly onto a Micro SD card.
Best Action Cameras
Without a doubt, the iON SnapCam Wearable HD Camera is the best action camera we've seen! It's compact, durable, and best of all, reliable! Don't wait, get the camera that you enjoy using in a snap!
More Available AV Essentials
We have two more cameras for you to check out! They are not "action cameras", but they are handy, helpful, and give you an amazing, clear pictures!
Lizard Cam by Atomic Beam
The Lizard Cam is the amazing camera that has the unique ability to probe areas invisible to the naked eye. It features a live-feed camera at the end of a flexible, 4ft. cord that streams footage directly to the handle-mounted LCD screen. This allows you to see deep into drains, behind heavy furniture, inside walls, beneath doors and more! There's even an LED light circling the camera lens facing out so it illuminates what the camera sees.
It's so easy to operate. Just hit the power button below the LCD screen to turn on the camera and light and it starts streaming video immediately!
Whether you've lost an expensive ring down the sink or are trying to find what's behind your drywall, the Lizard Cam is the right tool for the job.

Plus, this kit comes with 3 head tools: A Mirror for seeing around corners in, for example, vents; A Hook to recover jewelry; and A Magnet to pick up lost screws and other hardware.
You may have seen this on TV. It's made by the same folks who brought you the Atomic Beam Line of flashlights and lanterns, so you know quality is no issue. The Lizard Cam is durable and features a crystal clear live feed. Plus, we have an awesome "brown box" deal that you won't find on TV.
The first time you use the Lizard Cam to recover some valuable item or save yourself some expensive repair, it is going to pay for itself and THEN SOME.
1080P Dual Dash Cam by Armor All
Accidents happen quickly and sometimes it is difficult to recall all the details or even know exactly what happened. The Dash Cam provides an objective eye in situations that are often wrought with confusion and misinformation. Simply put, recording any incident is the greatest form of evidence allowing you to enter the courtroom with confidence.
This dual-camera dash cam not only records what's going on in front of you, but also what's going on inside the car. You can view both feeds at the same time with the customizable picture-in-picture display screen. This is perfect if you want to keep an eye on the kids in the backseat… or suspicious rideshare passengers. If angled correctly, this rear facing camera can also pick up what's happening behind you through the back windshield such as a rear-end collision.
With all the different safety modes, you can set the camera to not overwrite clips when impacts are detected; start recording when there is vibration when you're parked; and when it detects motion.
The Dash Cam mounts to your windshield on a swivel suction cup mount that also pivots up and down. You can view what the camera sees on a 2″ color LCD screen.
Your recordings will be crystal clear and irrefutable. This Dash Cam records in true 1080P HD Resolution. Everything is saved to a Micro SD Card so you can easily transfer files to your computer.
There are several safety modes for security footage even when the car is parked. It's truly a quality piece!
In my experience, dash cams are essential when it comes to accidents and police interactions. But for day-to-day use, it's interesting to see what kind of weird stuff you capture on the road!
Picture This…
And for your action camera, and all of your audio/visual and electronic needs, make sure to visit PulseTV Today!