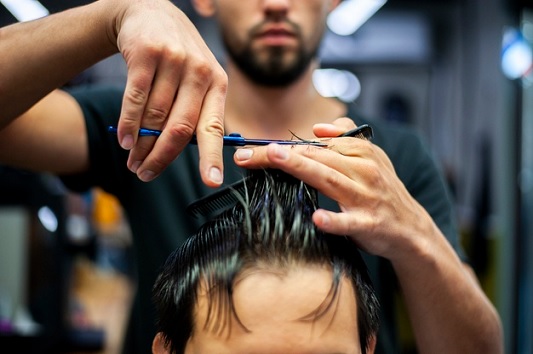 It's finally here! The time for businesses to open back up and that means – We Can All Get Haircuts! That's true, but the majority of places are now by appointment only and with amount of people that need a trim the wait could be a little hair-raising to say the least!
Let PulseTV help you out with your hairdo needs. We have a wide variety of items to free you from those unwanted follicles and care for your hair. Items like…
4 Piece Grooming Set with Nose Hair Timmer by Barbasol – This 4 piece grooming set from Barbasol includes everything you need to feel confident about the way you look and make your morning routine easier! Trim, style, and cut your own hair and beard in the comfort of your home. With an included adjustable blade guard, this trimmer will make quick work of unwanted hair all over your body. Take the blade guard off for precision shaping around your goatee or sideburns. You'll also receive the battery operated Nose and Ear Hair Trimmer, a Comb, a Blade Cleaning Brush, and Blade Oil.
Men's Complete 6pc Beard Grooming Kit – Get everything you need for maintaining a beard in one great gift set. The 6pc Men's Beard Grooming kit has all the essentials, made with natural, quality materials. Trim up messy beards and mustaches with the stainless-steel barbershop-quality scissors. This handsome set also includes a Boar Bristle Brush with solid bamboo handle, Anti-static/snag free wooden Beard Comb, 30ml Fragrance-free Argon/Jojoba Beard Oil. 30ml Lightly-scented beard Balm and a canvas drawstring travel pouch. So if you want to tame that messy beard get the kit that up to the task!
Cover Your Gray Hair Color Touch-Up – It's the fastest way to cover up that gray hair! Cover Your Gray is the efficient, inexpensive, no fuss gray hair solution helping women and men keep the gray away. This 2 in 1 stick has a dual sided applicator that allows you two different ways to cover up the gray. Just stay home, avoid the salon, and save your money and time with the easy way to take care of that gray!
Barbasol Power Blade All-In-One Shaver And Trimmer W/ 4 Cutting Combs – The Barbasol Power Blade is one of the most versatile shaving trimmers on the market. Made with a dual-sided stainless steel cutting blade, you get precision trimming, edging, and shaving right down to a close stubble with no cuts, or irritation. Use it wet or dry, with or without shaving cream, and even in the shower. Give yourself a trim whenever you need it with this handy shaver!
Soft and Smooth Hair Remover – Tired of plucking, waxing and other painful hair removal? You will eliminate the pain and get better results with the Soft & Smooth Hair Remover! Even the most sensitive of skin can use the Soft and Smooth Hair Remover because the design of the head is Hypoallergenic. The portable design and the fact that it is cordless (runs on one AA battery, not included) makes it perfect to take with you and use anywhere.
And for more great products head over to PulseTV!