I think most of you will agree with me when I say, 'I'm glad 2020 is done and over with!' What a crazy year it was, for everyone!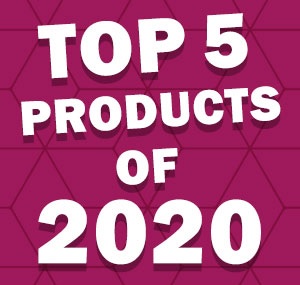 Our buying team did a FANTASTIC job jumping over hurdles to get you the very best items, and at the best discount we can get during the pandemic! Let me tell you, it was not an easy task!
We had plenty of items that really performed well last year, but I only wanted to feature our TOP FIVE! And honestly, each of these items are really stellar! (I use each and every one of these items)
All of these items are still HUGE sellers for us, and are all still in stock. If you missed out on any of these items, here's your chance to snag them up.
If you want to know our TOP FIVE selling products of 2020 were, you're in the right place…
KN95 5-Layer Protective Respirator Masks: 5pk… $29.99
Of course masks were in our Top Five! We sold 'oh so many' of KN95 masks during the pandemic, and we are still here to help keep you and your loved ones safe with this 5-pack of the KN95 5-Layer Protective Respirator Masks.
These feature 5-layers of protection from droplets, dust, bacteria, germs, smoke, and so much more! They are safe, breathable, hypoallergenic, and everyone here in the office uses these on a daily basis!
Recently the CDC suggested that people need to wear 2 or more masks to stay safe from the new Covid 19 strains popping up all over the country. Or you can get our 5-layer KN95 masks which filters 95% of all viruses. The simple explanation is that the 5-ply KN95 masks reduces the viral load and it is this that cuts the spread of Covid-19.
Not only do we have to contend with a surge in cases, now experts are warning that a shortage of these KN95 masks is once again happening – so stock up today!
Armor All Gooseneck Cup Holder Phone Mount… $14.99
Oh, we can't forget about the Armor All Gooseneck Cup Holder Mount, another HUGE seller for us in 2020! These have even been compared to the Weather Tech brand, and our customers say it definitely outshines its competitor. Not only on price, but on functionality.
This is a must for anyone who spends more than 20 minutes a day in their car because it allows you to use your phone TOTALLY HANDS FREE!
It sits conveniently in any vehicle's cup-holder and is fully adjustable tilt and rotation allows you to easily see your favorite navigation apps like Google or Apple Maps or even Waze when on the road.
The handiest feature is the gooseneck. It's tough as it is flexible! So flexible in fact, you can move it 360 degrees which allows you to effortlessly position your device. That's extremely useful when double-checking directions or your co-pilot's searching for an alternative route.
Whether you're a commuter, drive for work, or you're taking the family on a road trip, the Gooseneck Cup Holder Phone Mount by Armor All is the perfect travel accessory that's always dependable, helpful, and hands-free!
Swing by the site to watch the video, and read the many glowing reviews.
Egg Sitter Support Cushion… $29.99
You have probably seen this product advertised on TV in recent months, and it does hold up to all the rave. We have over 100 reviews on our site and it sits at 4.5 star rating! The Egg Sitter is the revolutionary seat cushion made from a silicone webbing, much like they use in all those new beds everyone is raving about. It is by far the most comfortable cushion I've ever sat on. Most of our competitors, like Walgreens and Target, are selling these for $39.99, but NOT US!
The lack of support to pressure points is what causes you to feel aches and pains in your spine, tailbone, buttocks and subsequently your neck when you sit for too long.
This makes the Egg Sitter great for anyone who does any prolonged sitting, whether it be behind a desk, steering wheel, or television. You can even bring it to sporting events; who likes sitting on aluminum bleachers? You will with the Egg Sitter!
You're going to love this cushion. I've been using one at the office ever since we picked them up, and it prompted me to get one for the car, too!
We haven't raised our price just because the increase in demand with e-learning and more folks working from home – grab yours today for just $29.99!
Safe T Air – The Solution to Indoor Air Pollution… $24.99
Oh my goodness… if you haven't tried Safe T Air, then you are missing out. We have been selling this for the past few years, and year after year this remains a TOP SELLER for us!
Why does Safe T Air stand out from others? It's a natural and chemical-free way to improve your home's air pollution. Safe T Air is ONLY made from water, tea tree oil, emulsifier, and coloring!
This essential oil is nature's most powerful antiseptic, anti-bacterial and deodorizer. Suspended in this thick gel, it slowly evaporates to gently circulate and clean indoor air. Your home's circulation system carries it from room to room. Your home's air safety is the main focus of Safe T Air. Thanks to the tea tree oil, it's a natural and chemical-free way to improve your home's air pollution.
Use it all over the house! It's great for basements, bathrooms, restrooms, closets, kitchens, ducts and more. This is great for boats, cottages and RV's too!
Take a second and visit our site and see what our customers are saying about this HOT COMMODITY!
Ultra-Bright Triple Panel Garage and Ceiling Light: 6000 Lumens… $24.99
We got these Garage Lights at the end of August, and YES, in that short time frame it did so much in sales it crushed through to one of the TOP FIVE spots! And Everyone, and I mean everyone, loves this light.
No more dark garages, attics, storage rooms, closets, workshops… anywhere you put it, you'll swear it's daytime!
Each panel pivots up to 90 degrees to angle the light exactly where it's needed. Even though it kind of looks like an alien spaceship – it works exactly like any other light bulb. It turns on and off with the flick of your switch, and you don't have to worry about wiring or calling the electrician.
Don't be fooled by some of the other ones out there with a handful of LEDs – they aren't nearly as bright, and this one has a true verified brightness rating: 6,000 lumens!
It's safe, effective, and the brightest way to upgrade your home lighting.
Start enjoying energy efficient, extremely BRIGHT light from this triple panel garage and ceiling light. It's super simple to use, it just screws right into any standard light bulb socket, without any additional wiring or tools required.
You gotta swing by the site, and read some of the reviews from our customers.
I've seen the hundreds of products that came through in 2020, and I will say…I do agree with what the sales show. Each of these items sure do deserve to be in the TOP FIVE spot!
You will love each and every one of these products – visit our site for more information!