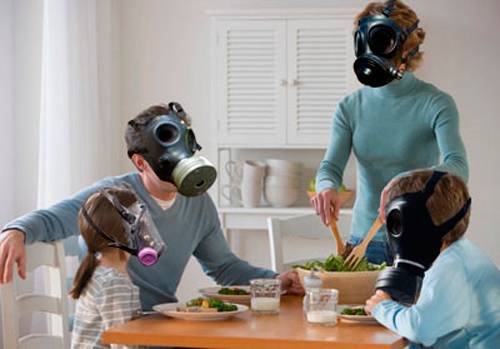 With all of the health concerns we face each day, even without the increased worries brought on by the coronavirus and other developments throughout 2020, one that seems to get overlooked is indoor air pollution. Indoor air pollution? That's right! IAP is a serious problem that can affect, complicate, and intensify numerous preexisting health condition, and create new ones as well.
Indoor air pollution is one of the world's largest environmental problems and contributes to risk factor for several of the world's leading causes of death, including heart disease, pneumonia, stroke, diabetes and lung cancer.
According to a study conducted by the Global Burden of Disease, in 2017 approximately 1.6 million people died prematurely as a result of indoor air pollution. That is four times the number of homicides – around 400,000 – in 2017. IAP would appear to be a the silent killer – literally!
That is why it is vitally important to take the initiative to cut down on the pollution within your household and make your living space safe and healthy for you and your family.
Air Purification
Since the COVID-19 pandemic began in the spring of 2020, we have spend the majority of our time at home. Over the summer, we were able to spend time outdoors, open up the windows, and let to warm fresh air refresh the inside of our homes. Now with the fall approaching fast and furiously and winter soon to follow, we will have to bundle up our domiciles to combat freezing temperatures and wicked winter weather. So what can we do to keep the inside air clean and pure for the long winter ahead?
Safe-T-Air
Indoor air pollution is a real problem that can cause serious health concerns if it's not addressed. You can easily get rid of your home's odors, mold, mildew, bacteria and fungus. Safe T Air cleans the air naturally with tea tree oil.
This essential oil is nature's most powerful antiseptic, anti-bacterial and deodorizer. Suspended in this thick gel, it slowly evaporates to gently circulate and clean indoor air. Your home's circulation system carries it from room to room.
Use it all over the house! It's great for basements, bathrooms, restrooms, closets, kitchens, ducts and more. This is great for boats, cottages and RV's too!
One of the best parts of Safe T Air is that it's all natural. It's only made from water, tea tree oil, emulsifier and coloring. That's right, all natural – no harmful chemicals.
Your home's air safety is the main focus of Safe T Air. Thanks to the tea tree oil, it's a natural and chemical-free way to improve your home's air pollution.
FEATURES and BENEFITS:
– Prevents mold from starting to grow and reduces existing mold up to 98%
– No power required; self contained packaging allows you to easily place in affected area
– Starts working immediately using the existing air movement indoors
– Designed to last up to 3 months providing protection for pennies a day (Depending on the affected area size and airflow )
– No hazardous chemicals, non-caustic
– Simple and effective, all natural, easy to use and works quickly
Helps Minimize:
– Mold
– Mildew
– Bacteria
– Fungus
– Odors
Safe T Air is economical and easy to use. Contains 14 oz. Use one for every 400 sq. ft. Head to PulseTV and get yours today!
Clean Indoor Air
Soon we are all be spending more time indoors. Therefore we must pay special attention to our indoor air quality. Here are tips to make your indoor air environment as clean as possible.
Open windows! Get fresh air in your rooms every chance you get.
Lose the fragrance! If is says "fragrance" in the ingredients, it means that the manufacturer can put ANYTHING in it and hide it from you and regulators. You're bathing it in, washing your clothes in it and cleaning your homes with it. Add that up 365 days a year and it comes to a whole lot of toxins.
Some of the ingredients in normal laundry soap are so toxic that if you put them in a barrel and left on the side of the road you could be arrested for dumping toxic waste.
There are plenty of fragrance-free soaps, detergents, deodorants and lotions on the market. Even 'green' products made with few or no petroleum by-products. There is no reason to put your health or the health of your family at risk!
Refrigerator Air Purifer and Deodorizer
It is not only important to keep the air in your home pure and clean, but you should really consider keeping your fruit and veggies fresh (and crisp) for longer with this easy-to-use refrigerator gadget!
Your food will be fresh longer while your fridge will be odor free!
As fruits, vegetables, and other food get old, they start to off-gas ethylene. Trapped inside the fridge or fridge drawer this gas creates a run-away effect prematurely spoiling your food. This Food Save by Prep Works is made to help maximize fridge airflow while the special carbon filters absorb gas and odors from produce, meat, cheese, juice and more.
The kit includes two crispers with two replaceable carbon filters. Installation is so easy! No batteries needed just attach via suction cups to the inside of any fridge or veggie crisper drawer.
Each filter lasts 90 days and the crisper has a handy slide-dial monthly calendar, so you know when to change it. The crisper is also dishwasher-safe.
And with with the Refrigerator Air Purifer and Deodorizer you can save money in two simple ways!
1. Because your food stays fresh longer you won't waste as much.
2. Other, electronic versions cost as much as $60 and require the constant replacement of batteries. This costs a fraction!
FEATURES and BENEFITS:
– Crisper Makes Produce Stay Fresh For Longer
– Carbon Filter Removes Odors And Food Off-Gassing
– Each Filter Lasts For 90 Days
– Save Money With Less Food Waste
– Designed For Maximum Fridge Air-Flow
– Handy Monthly Slide-Dial Calendar On Crisper
– Each Kit Gives You Two Crispers With Filters
– Suction Cups Easily Stick To Inside Fridge And Cripser Drawers
– Crispers Are Dishwasher Safe
– Crisper Dimensions: 4″ X 3.5″ X 0.75″
Breathe Easy
Whether it's during a pandemic or your average ordinary day now is the perfect time to start breathing easier. Make your happy home a healthy home – and let PulseTV help you do it!