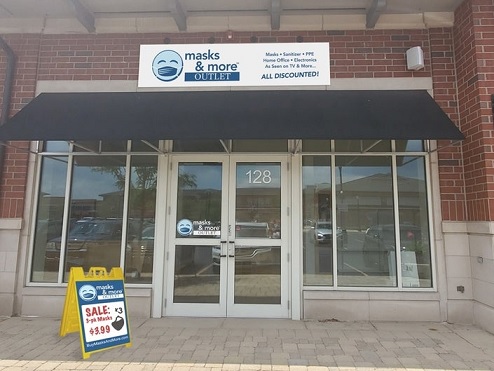 If you're looking for masks and more, there's a store for that…
TINLEY PARK, IL August 3, 2020 – PulseTV.com, a leading North American online retailer announced today the opening of its first brick and mortar store. The store will be branded under the name, Masks & More Outlet and will be well stocked with PPE (Personal Protective Equipment) to meet the growing needs created because of the Covid-19 pandemic. The store opened on August 1st. PulseTV co-founder, Tom Zegar said,
"It appears the Coronavirus will not be going away anytime soon and people need to find a reliable source of quality PPE. We've been selling our masks, sanitizer, disinfectant wipes and a whole host of other PPE products since early in the outbreak. We have it all in stock and thought that the local community would appreciate a dedicated store where they could simply walk in and buy what they need immediately. No need to wait for the delivery truck to show up. These days people need what they need when they need it. Masks & More Outlet fills that need."
In addition to the PPE products, PulseTV will stock the store with other products from its warehouse geared towards people who are spending a lot of time at home with family. This includes games, crafts, cooking utensils, personal care items and more. Anisa Ali, also one of PulseTV's three co-founders weighed in,
"We cut our teeth many years ago with retail back in the days of video rental stores, but this is our first brick and mortar experiment since going online in 1998. Our warehouse in Tinley Park is less than 4 miles from the location we selected and allows us to quickly resupply the store. It should also be noted that we are not creating product demand but merely responding to it. The pandemic has created the demand for many products that the conventional distribution system has had difficulty in satisfying."
PulseTV began manufacturing hand sanitizer early in the pandemic and importing masks to satisfy their 6.5 million+ customer base already receiving daily deals by email. This also led to wholesaling PPE to nursing homes and independent retailers. The Mask & More Outlet is an experiment that if successful could lead to many more pop up stores opening before the end of this year. Zegar added,
"Every community has empty retail space these days. The pandemic has caused a retail apocalypse. We are hoping a Mask & More Outlet can serve local community needs in addition to being profitable."
For more information, contact: Mary Kolacki, Communications Director M.Kolacki@PulseTV.com or call 708-478-4500 ext. 109. PulseTV.com is a North American online retailer that has been marketing exclusively online since 1998.
For more info on The Mask & More Outlet, visit our website:  http://www.masksandmoreoutlet.com/ Like our facebook page! https://www.facebook.com/masksandmoreoutlet