The time of year is here again…it's time for The Annual Garage Sale Event.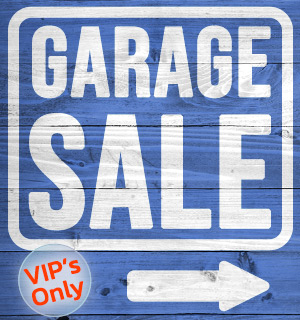 With prices going up almost everywhere this last year, we want to make this sale extra special. We worked really hard to get some of your favorite items back in stock – some at barely above cost!
Plus, this year we have added many items that are being discounted for the first time ever. When you add those savings to Pulse TV's already low prices, you're saving a bundle.
Please don't wait on these deals though. Many items have limited quantities and are sure to sell out. Take a look below at a few of the deals we have for you. Let's get to it…
Wolfgang Puck 3-in-1 Knife and Scissor Sharpener… $6.91
We got an exclusive shipment of Wolfgang Puck's 3 in 1 Knife and Scissor Sharpener.
His versatile knife sharpener handles it all, from your chef's knife to your tabletop steak knives. You can sharpen kitchen and utility scissors too, even if you're left-handed!
It has two slots to sharpen and hone knives: a coarse slot for really dull knives, and a fine slot for daily honing and lightly-dulled knives.
There's even a special center ceramic sharpening bar so you can sharpen a pair of kitchen shears or scissors whenever you need it. You rarely see that on knife sharpeners! This sharpener has a soft-touch handle and non-slip grips so it doesn't slide when you're handling cutlery.
Every chef knows a dull knife is a dangerous one: keeping them in tip top shape is a must. Properly maintained knives let the blade do all the work so you use less force and save your fingers!
This was featured on HSN for $19.95 and stores like Kohl's had them for $29.99, but you won't pay that high price tag today. Grab this popular item from his line for just $6.91! We only have a limited amount of stock, so don't miss out!
Purifize Spot and Stain Remover 8oz… $4.99
If you've been looking for a Spot and Stain Remover that really works, then look no further than the Purifize Spot and Stain Remover.
Fresh stains, even old stains will disappear like magic. We know because we used this all over our office and our carpets have been brought back to a new look!
Got a pet? No problem…this is a must-have bottle to have in your home. You don't have to live with those unsightly stains use this to remove urine and feces stains. Whether you have a dog, cat, hamster, rabbit, or bird – Purifize Spot Remover will eliminate stains with ease.
It works on just about everything! Ketchup, Mascara, Magic Marker, Ink, Chocolate Milk, Coffee, Dried Grape Juice, Red Wine, Grease, Oil, Shoe Polish, Pet Stains and more will be gone. All that's left is fresh, clean scent!
Chilly Ice Towel – A Cold Towel That Lasts for Hours… $3.91
The amazing cooling properties in our Chilly Ice Towel make it a MUST HAVE in warmer weather.
This towel is made of a hyper-evaporating fabric that cools off as it naturally dries. To activate, simply wet the towel with any available water source, hot or cold, and wring out the excess water to let the magic happen! After a few shakes, it downright feels ICY-COLD and lasts for hours.
Drape it over your shoulders or tie it up like a bandana, it's like you have AC around your head and face…It's perfect for workouts, walking/hiking, gardening, or even fighting fevers and headaches. Grab some for the kids in their summer leagues – it's safe for them, and they will love shaking the towel.
Each towel comes in a carrying bottle that keeps your Chilly Ice Towel moist and cool when you need it most. The bottle has a carabiner hook making it super easy to attach to any gym bag, purse, or backpack so you always have one on hand. It's also machine washable and can be reused over and over; just re-wet to start the process again.
We have an great deal on the Chilly Ice Towel, plus, you save more when you grab an extra. Make sure your loved ones are staying cool and healthy!
Mighty Blaster Fireman's Nozzle (As Seen on TV)… $9.99
The Mighty Blaster is the popular as seen on TV nozzle that can go from a fine mist to an explosion of water power just like a firemen's hose nozzle. Just twist the nozzle to control the flow.
With Mighty Blaster you get more than just power and precision! It's built with special power pressure technology evolved from real firehose nozzles. It allows you to easily reach your roof and clean under your awnings. It also can blast away tough caked-on dirt, debris, and leaves from your patio. Wash your car, remove mold and mildew from your home's exterior, or get rid of years of dirt from your patio furniture.
Whatever your regular hose nozzle can do, this one can do WAY BETTER! It even has a convenient twistable on/off lever under the nozzle.
Mighty Blaster is built fireman tough with Aircraft Grade Aluminum and Stainless Steel so it's always ready when you are. And with the handy comfort grip, you won't get painful hand fatigue like on traditional nozzles.
Our Annual Online Garage Sale Is On Now…
Look Around Because There Is Something For Everyone! We also have the RFID-Blocking Bifold Wallet, USB Rechargeable Coil Lighter, Furniture Repair Markers & Filler Crayons, Advanced EMS Foot Therapy Massager, Chill Out Body Cooling Pad, Flexible Chopping Mats 2-pk, Extendable Mega Hand Fly Swatter, Indoor/Outdoor Rechargeable 12-in Floor Fan, Steamfast Compact Fabric Steamer, Touch-Activated Sleep Sound Machine, 3-in-1 LED Roadside Flares, Bear Grylls Compact Scout Folding Survival Knife, Storage Dresser Furniture Unit, Beach Towel Games, Portable Pilates Workout Studio in A Box, PlushLuxe 6-Piece Bath Towel Set, and much more…
So Don't Wait On This Sale Because Many of the Great Items Are Selling Out FAST!