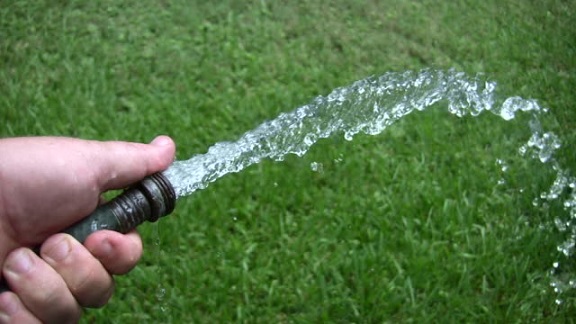 There are many ways for us to keep our cool while beating the heat this summer. If you have a pool, you swim in it! If you have a sprinkler, you run through it! If you have water guns, then fire away!
At my house, during those hot summer months, the sprinkler is our go-to way to cool down. Getting the right sprinkler is certainly a good idea, but choosing a tough, dependable, and hassle-free hose is really the keys to staying super cool all summer long!
Best Garden Hoses
Selecting that much needed garden hose can make or break your summer. There are so many hoses to choose from that finding the one you want might be more difficult than initially anticipated. Whether you are looking to upgrade or replace a tattered, wore-out hose that has seen better days it important to know what features to keep in mind…
For my money, the best hose I have found is the Hose Hero! This metal garden hose blows your standard rubber hoses away! It is virtually indestructible, light weight, kink-free and it stays cool to the touch even
under the blister sun.
My old hose always split over time due to the harsh summer sun beating down on it. Now, that's not a problem! The Hose Hero features a rubber inner hose that keeps it from leaking and a SmartSteel outer hose that holds up to anything the outdoors has to throw at it. Metal garden hoses stand up to the elements and won't fade, crack and leak after prolonged exposure to the sun.
It can attach to spigots like any regular hose, and it's super flexible so it can be spooled up in a breeze after a long day's use. One hose is 25 ft. long, and depending on how much length you need you can easily connect it multiple hose as needed.
The big reason I has this particular hose in my yard is that it DOES NOT kink due to the construction and use of the aforementioned SmartSteel; both help to lengthen the life of this hose far longer than your garden variety rubber hoses. A kinked hose is a pet peeve of mine and whether I'm watering the flowers, setting up the sprinkler for the kids, or I'm about to start washing the car if I have to constantly battle the hose I am NOT a happy camper.
Handy Hose Helpers
Now, with a reliable hose at the ready, the next step is getting those important accessories that can help you use and store your hose properly and effectively.
Gilmour
Pro Hose Nozzle
If you have a yard or a garden you know the work that goes into keeping your lawn thick and green and those flowers and vegetables healthy and blooming. Give your lawn and garden the love and care it needs during the warm months with the Gilmour Pro Hose Nozzle!
This Pro Hose Nozzle has a solid, heavy duty construction and has the three essential patterns you'll need: Jet, shower and sweep. All you have to do is turn the rubberized head to cycle through them.
Just simply turn the rubberized nozzle head to switch between patterns. It also features a thumb-controlled water flow adjuster lever, making it easier on the hands. No more constantly squeezing a trigger!
This nozzle comes in a handsome red and silver metal finish and it will attach to virtually any hose.
Heavy Duty, Portable Hose Holder
A garden hose is essential for every garden or yard, but it definitely can be a nuisance if you don't have a place to store your hose properly.
The solution is the Portable Hose Holder, which is made of heavy duty plastic that can hold up to 35 lbs. There is no tools or assembly needed for this either. It simply slips over the water spigot and is ready to use.
Keeping your hose neatly organized not only will have your yard looking more appealing, but it also extends the life of your hose. No more kinks or tangles!
Plus, you can even use this for more than just your hose. I have mounted two holders in my garage to store my extension cords. You can use this for anything that needs to be coiled for storage.
Gorilla Clutch Ties
Hang or carry almost anything with these Gorilla Clutch Ties! This set of 2 grip ties wrap around and bundle items together making it so much easier to life and carry them.

These clutch grip ties have a sturdy, ergonomic grip handle making it effortless to carry almost any item. It's great for lugging around large cables, ropes, tools, hoses or bundles of groceries. These ties are reusable, waterproof and have four interlocking notches so you can adjust the size of the grip to fit any item.
But it's not just for carrying around items, you can use it to hang up your belongings too! They were designed to withstand up to 50lbs. So you can easily strap this around a bike and hang it up on your garage wall… Trust me, I've done it! It definitely freed up space and helped organize my garage.

When summer is over these grips can really come in handy when you are putting your hose up out of the way so it stays in good shape for fun in the sun next year – all summer long!
Wash Away Those Water Worries
Whether you are watering your plants or you are having fun with the kids keeping cool during the summer months, getting the right tools for the job can make the work actually fun, and the fun even more so; after all, gardening is supposed to be a relaxing hobby, right?
These days, a stainless steel garden hose or the popular metal garden hose, seem to be where it's at when updating or replacing your preexisting hose – and I could not agree more! Be sure to pick up these items, other must-have outdoor accessories and more great products at PulseTV Today!