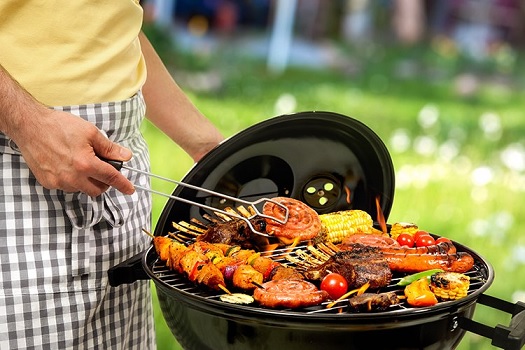 Summer, glorious summer! There's no better time for fun. Water parks, the beach, bicycling, volleyball, softball, water balloons! But the perfect summer activity will always be the backyard cookout. Just close your eyes and picture the grill and you can immediately smell those juicy hamburgers, sausages, and chicken wings just sizzling away.
Grilling isn't just cooking, it's an American tradition. So make the most of it with some useful accessories that will help you get the most out of your cookouts.
Every griller knows that a clean grill delivers the best results, but if you're still using a wire brush to clean your grill grate it's time you graduated to the Stone Grill Brush. A wire brush just doesn't clean a stainless steel grate that well, and can actually damage enameled grates! But the natural Pumice Stone this cleaner uses is safe for Porcelain, Stainless-Steel, Iron and other grates, and cleans 4X faster than wire brushes. Plus, you never have to worry about stray wires sticking to your grate and making their way into your food!
Are you tired of slaving over a hot grill only to discover that your delicious steak, chicken, and potatoes, are NOT cooked all the way? That's sure to make any BBQ guest hangry! With these ready-to-use Grill Bags you can cook food thoroughly and evenly, while keeping your grill grate clear of burned-on food fragments. This set of 2 Non-Stick BBQ Bags (comes in large and medium sizes) is designed to cook a variety of foods all the way through, 360 degrees. Use it for steak, chicken, veggies, potatoes, even shrimp. Unlike some grill accessories the Grill Bags are reusable and dishwasher safe. And when the seasons change, and it's too cold to barbecue, you can use them in the oven the same as you would on your grill.
Steaks, chops, sausages and burgers are the favorite things to cook on a grill, but smaller items like shrimp, scallops, mushrooms and veggies taste just as good – if you can keep them from falling through the grate! But these Copper Grill Liners turn your grill top into a griddle in an instant! They're great for veggies and fish not to mention how moist your barbecue ribs and chicken will be because the sauces don't drip off. The non-stick surface means even the messiest of sauces wipes clean. Wash with soap and water or throw them in the dishwasher.
What is a summer barbecue without a cooler full of refreshing drinks? Ice cold beer for the adults and root beer and pop for the kids. Put this fun and creative Bottle Opener and Cap Collector on the table next to the cooler and not only will you always know where the bottle-opener is – but you won't have stray bottle caps littering the yard. This durable, rustic bottle opener is made of real wood and will become a staple of any man cave or outdoor patio. It's a great way to save up caps for DIY art projects or just provide an easy place to dispense your caps during parties.
Summer is coming! Get your accessories now and you'll be king of the grill by the time the first cookout rolls around.