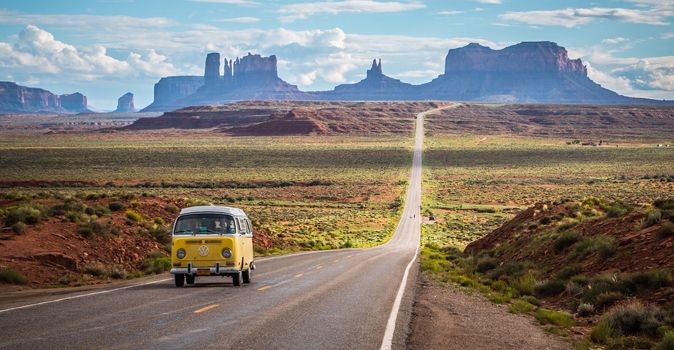 If you are like me and most people, traveling by air is not ideal during this pandemic. This does not mean you cannot take a vacation though. There is an old-school road trip way to travel our beautiful country. But we have lost the art of traveling by car to destinations.
Is it Safe to Travel Where I am Going?

Before anything else, check out just how widespread the Corona Virus is spreading on your stops and your final; destination. Check out the CDC website regarding hot spots and for general information. See here: CDC Consideration For Travelers. Of course, it is wise to practice social distancing and wear masks when you interact with people on the road trip.
This blog post will give you tips and pointers on what to pack and especially how to stay safe while traveling. Your car is like a mini-bubble for you and your family so let's get right to the information. This is not theoretical as my wife and I drove from Chicago to Maine with stops in Niagara Falls and Vermont.
We had a fantastic time as the scenery was gorgeous and my wife brought along dozens of old CDs that we had not listened to in years. I did the driving while she played DJ. We both sang off-key in uncaring disharmony.
What to pack?
Obviously a lot depends on how far you plan to travel, but below is a brief list on what to pack. The further you drive, the more snacks and food you need to take, but there are always grocery stores along the way if you get off the Interstate and head into a local town. This is also a lot of fun.
Cooler with plenty of ice – A cooler is essential for packing water, ice tea, sandwiches, fruit, etc. Because of Covid-19, even if restaurants are open along the way, we do not recommend you patronize the establishments. So take plenty of food and liquids.
The Ultimate On-the-go Anti-bacterial 16pc Sanitizer Kit, which includes:
If you've been on the hunt for PPE Products then look no further than the On-the-go Anti-bacterial and Sanitizing Kit! This is the most affordable disinfectant kit on the market, that will protect you from harmful germs during this stressful time – on and off the road! (Plus, each of these items are available individually at PulseTV.com)
Blanket – When the Interstate system was created in the 1950s, rest stops became a thing because small towns were bypassed. There are many tremendous rest areas that you can have a picnic for lunch and dinner and enjoy the trees. Of course, rest areas all have bathrooms. This often creates an even more refreshing pause.
6ft Braided 3-in-1 Multi Charging Cord: Android and iPhone-Ready – You do not want to be stranded without power to your phone. This USB charging cord has 3 different cable types at the end of it which include a micro USB, type-C and iPhone lightning cable. You can charge up to 3 devices at once including your iPad, smartphone, tablet and many other devices!
Towel – Always comes in handy at a rest area or in the car. If you have children with you, pack a few more!

Foldable Tortoise Shell Sunglasses with Travel Case or BLACK Wayfarer Style Glasses w/ Case – Whether you are driving or a passenger while traveling on the road, driving during a clear, hot summer day can fatigue your eyes and you need some UV protection.
Plastic utensils – Ever try eating potato salad or coleslaw with your fingers? I did this once and never again.
Sonorous Portable Wireless Bluetooth Speaker – When you make your stop at a rest area and are having a picnic, you will appreciate a portable speaker to enhance your entertainment. It delivers powerful HD sound at an affordable price. This high-end portable speaker will stream all of your favorite music and features an LED ring that dances along to the beat!
Napkins – This will save you wiping your hands on your shirt!
Farpoint 1500LM Rechargeable Flashlight and Power Bank – From searching for something around or under the car, to exploring some of the local plants, insects, and animals at a rest stop. Plus if you have car issues or a flat tire, a good flashlight can make a roadside repair go much smoother.
Plastic Bags – Nothing is worse than treating your car as a garbage dump while on a road trip. Have plenty of those plastic bags you get at your local grocery store and a couple of garbage bags for good measure. You will be glad you packed these.
10000mAh Power Bank with Digital LED Display – A blown fuse, loose wire, or even a penny falling into the socket can render your car's DC outlet useless. A good power bank not only greatly increase your safety on the road but you'll also keep your passengers from fighting over the limited number of outlets in the car.
Umbrella – Chances are good that while you might take off when it is a sun-filled day, at least once or twice on this road trip you are going to get caught in the rain.

OK, so now you are packed and there is more to a successful trip than what you bring with you. A road trip is different than hopping on a plane and getting to your destination. A road trip has the added benefit of the journey itself can be joyful. It is critical to a successful trip to relax.
We live in a world filled with speed. A road trip is a way to slow down and enjoy the sites along the way. Do not be in such a hurry that you miss the grandeur of our great nation. Pay attention to signs that point out interesting diversions. Iy could be a museum. A historic site. A sprawling lake…or the world's largest ball of twine (yes this does exist!).
Taking your time along the way allows you to distress. Get out of the car and stretch at rest areas. We took a Frisbee and after picnics at rest areas, we got some much-needed exercise throwing the disk. It's always good to get the blood running through your legs.
My wife and I stopped at Lake George in NY and watched the boats and spoke with several locals. In Vermont, we took a tour of a working farm and bought cheese made right on the premises. Road trips are a tremendous opportunity to meet locals. You will find nearly all of them generous with advice on what to do and where to go.
In fact, meeting locals on a road trip is one of the great experiences you can have before you even get to your final destination.
Take Photos
Since 2007 when the iPhone came onto the market, cameras on phones have become better and better. Take plenty of photos because each one is a memory you will cherish for years to come.
When my wife and I got to Maine, we stayed at different Bed & Breakfast establishments. If we were younger, we would have camped out which is even a better strategy to combat Coronavirus. Staying outdoors is advisable whenever you can.
One thing I forgot to mention. There are so many names of towns that are unusual. Use Google to search for the origin of the towns. Finding the answer is like a history lesson and this adds some spice to the drive.
Remember…Stay Safe
I am going to end this blog post like it began; with a plea to practice safety first. Most of this time it means to wash your hands, apply plenty of hand sanitizer, and practice social distancing.
Now, hit the road Jack!