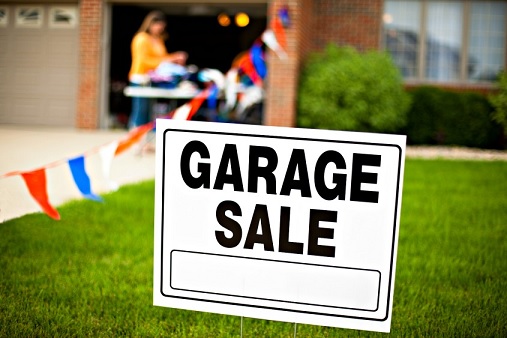 Spring has sprung and typically we are outside more prepping our gardens, hitting farmer markets, and rummaging through garage sales every weekend. Unfortunately, we are living in a world right now where this is so unfamiliar to us.
Every spring we put on a Garage Sale Event for all of our customers. We slash prices left and right on some of our most popular items, and it's one
of our BIGGEST events all year. This is our third annual event, and we decided to make it extra special.
Since garage sales aren't happening in most neighborhoods we really wanted to make this year's extra special. We've added more items than ever, and we will continue to add more and more items each day!
Here are just a some of the deals on the page, some of which are my personal favorite items:
4pk Creative Charm Coloring Books   – Did you know it's been proven that coloring can be very therapeutic and help reduce stress and anxiety?
All four coloring books are the same, but what I love about this deal is you can keep one for yourself and gift the other three like I did. Plus, each book comes with colored pencils!
Striiv Bio2 Plus Fit Tracker With Health App – This is the BEST thing on this sale…hands down! This little gem automatically tracks your steps, distance, heartbeat, calories burned, exercise time, and even sleep – PLUS MORE! It's so compact with features I simply can't name them all. Stop by and read about them, and the reviews! This is a 5 STAR product!
Audrey Hepburn 100pc Jigsaw Pocket Puzzle – This black and white puzzle features the famous image of Audrey holding her long cigarette from the movie Breakfast at Tiffany's. Also features her famous quote, "Nothing Is Impossible, The Word Itself Says I'm Possible"! Perfect give for any Audrey or old Hollywood fan!
Red Copper Santoku Chef's Knife – It's BACK BY POPULAR DEMAND! This is one of the most popular knives we have EVER sold! It's made of incredibly durable, nonstick copper-infused ceramic surface. My favorite thing about this knife is nothing sticks to it, which makes my dicing and slicing effortless! At this price grab a few! Stop by the site and read some of the 5 star reviews.
Cooler Tote Bag – If you're picnicking, or just spending a day at the beach this is one terrific all-around Cooler Tote bag that is leakproof, waterproof and collapsible!
Many items have limited quantities and are sure to sell out so don't delay. For more HUGE SAVINGS head over to PulseTV!