I'm not going to lie, this winter has been rough. Heck! The last year has been one of the toughest on record. With COVID, the brutal weather, and all-around stress, we are all looking ahead to the greater, greener days ahead.
And speaking of green – it's March and you know what that means… Spring is right around the corner – and so is St. Patrick's Day!
For years, the local St. Pat's Day parade has been a tradition for so many families, but this year they have been canceled because of the pandemic.
And just because we don't have a parade to enjoy doesn't mean there aren't many other ways to show off your Irish spirit and bring some joy, and a smile, to so many. I think we could all use a reason to smile! Wouldn't you agree?
Well, all you need to set the mood is a little Irish gear. And we have something that's fun, functional, and – best of all – Festive! It's the St. Patrick's Day Light Up Knitted Hats!
St. Patrick's Day Light Up Knitted Hat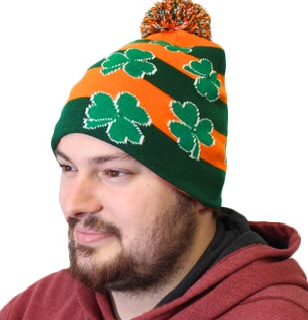 There are 2 styles: White & Green and Orange & Green, and both of them light up with a flashing LED display.
Each hat has 7 LEDs and three modes that you can cycle through by pressing the 'on' button. You can cycle through 3 flashing modes by pressing it again and again. Go from fast and moderate flashing to steady on – or no lights if you prefer.
There's no bulky battery pack, and no one will even be able to tell that your festive looking hat will actually light up!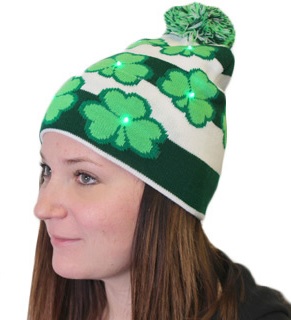 One downside is that the electronics are actually sewn inside the hat, so unless you want to make a small cut in the fabric, the battery isn't replaceable. The good news is that the energy-efficient LEDs will shine bright for a long time!

Oh, and it even has a fun poofball pom on top! Who doesn't love a fun poofball pom on top? In my book a hat is not a hat unless it has a fun poofball pom on top!
Remember, St. Patty's Day is at the tail end of winter, and it still gets cold out there. So if you want to identify yourself as an honorary son or daughter of Erin, this is a fun and cozy way to do it.
Get yours for $7.99! And remember, when you buy more, you save more – so get these festive hats for the whole family!

So Don't Wait! Order yours now so you can have  it ready to wear it before St. Patrick's Day on March 17th.
Click Here To See This Hat's Light-Up Action Or To Order Your Very Own!