Here it is, a special BUYER'S ONLY BLOWOUT SALE!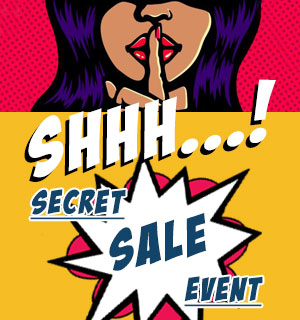 We find ourselves with odds and ends of some products with quantities as low as 40 pieces. We want to move these out of the warehouse and gain more space for all the new stuff we just bought at the HUGE VEGAS Show we just attended.
To make sure we sell and I mean sell out of most of these items, we have slashed the prices to BELOW COST on so many of them. We are talking about getting this stuff for practically free!
We've got a whole bunch of items… make sure when you visit the page you also look at what is on page two. This is the biggest sale of the year!
There are over 40 items, but many will sell out very fast!. Here is a sampling:
These stunning LED Lanterns have a candle built inside that flickers like a realistic flame… Yes, that's right! The candle inside glows and flickers like a real flame and it looks so cool. The pictures don't do it justice, you have to watch our video to see it in action.
They look gorgeous alongside any pathway, garden, patio or placed on any table top. They come in a subtle red and black brush finish and each panel is made out of real glass which makes them look high-end.
And you don't have to worry about any cords or wiring with these beauties because they run on a solar-powered battery. That means they charge up during the day and automatically turn on at night.
They even come with their own shepherds hook so you can easily hang them. And it's made out of a thick metal so it's very sturdy. You can also adjust the height from 15″ or 24″ tall, depending on the kind of look you're going for.
They're weather-resistant and can be displayed all year round! And when you buy more you save more, so get several to illuminate your whole pathway, patio or garden.
Have you heard about Push Pop Stress Busters? I hadn't until recently, but let me tell you, my kids are OBSESSED with these toys!
They've already sold out at plenty of stores, but don't worry we still have some. They come in four different fun colors, and when you buy multiples you'll get an even better deal.
Kids of all ages love them. These poppers are great for at-home sensory play with young children. And teens and tweens can't stop talking about them on Instagram and TikTok.
You can even play games with it! Learn how on our site.
But don't worry, you don't have to be a kid to use the Push Pop. They make great stress relievers for your office desk too. The popping feeling is so satisfying, you will find yourself mindlessly playing with this toy without even realizing it.
Best of all, since they are made from a flexible silicone material, they're great for on-the-go. Because they're made of silicone, they're super easy to wash too.
Whether you are on a weekend camping trip, sitting by the pool, or just doing some gardening in the backyard, there's nothing better than soaking in the sun while listening to some of your favorite tunes.
With this Wireless Portable Speaker, it's super easy to take your music with you anywhere you go! This speaker is super lightweight so it makes the perfect accessory for an afternoon hike. The included carrying strap makes it even easy to take it with you on-the-go, while also keeping your hands free. And it has a cloth mesh covering, just like all the latest speakers nowadays.
You'll also get up to 4 hours of play-time with this portable speaker. And you can use a variety of devices to listen to music, podcasts, and audiobooks. You can connect your phone via Bluetooth, use a USB thumb drive, or insert an SD card.
But the coolest feature that comes with this speaker is the True Wireless Pairing option. This setting allows you to pair your HiFi Speaker with another Bluetooth device so that your music plays from both speakers.
You'll love how easy these Push Puck Lights are to place anywhere in your home and get instant lighting.
No cords, wires or plugs needed. I mean these can go anywhere!
Each light features a Super Bright LED light with a reflective cone, so they dish out a whopping 100 lumens per light – super bright for this size! Plus, LED tech is energy efficient to make those batteries go a long way! Each one even comes with 3 AAA batteries to fire them up right out of the box.
How's this for easy? Just peel the paper cover off of the back to reveal the adhesive patch, then stick them wherever you want! It's that simple. Just tap it to turn them on, and tap again to turn off. It's that simple.
With this 3-pack you will quickly realized that there are so many places that could use a little extra light. Places like inside and beneath kitchen cabinets, under your bathroom sink, closets, pantries, display cases, kids rooms… the list goes on and on.
So give yourself some light where you need it most with this unique trio of Push Puck Lights…and batteries are included!
See these and SO MUCH MORE by visiting our site. Remember we have over 40 blowout deals, but many of these will sell out fast! It is also important to note: The sale prices for items on this page are good for a limited time. No promo code needed.
Don't miss this exclusive event – a chance to save more than ever!