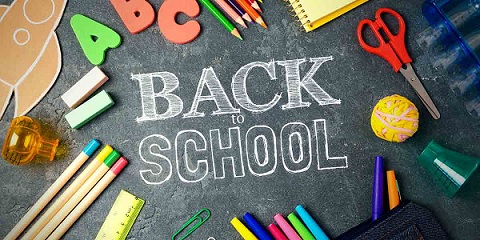 It's that time of year again – Back To School!
Whether your child will start the school year with virtual learning, or will attend school in-person we have gathered some of our best selling items to help parents, guardians, and caregivers, plan and prepare for the upcoming school year. And with prices soaring the way they are we have many items available for cheaper than anywhere else!
Please feel free to stop by and shop around – We are here to help! We always strive to keep you and your family safe!
We put together a list of a few must-have items your kids will need this school year and we'll show you where to get these items cheaper than anywhere else!
A Pound of Papermate Ballpoint Pens 60-Pack
There's nothing quite like putting pen to paper. The problem is trying to find one when you need it. Not anymore with the Papermate Ballpoint Pens 60-Pack!
There's plenty of pens here to go around! With 60 PENS available to use you can share them with your entire household. Take them to work, school, and keep some at home. You can even put a pen or two in your car, nightstand, desk, purse, backpack, briefcase, hobby room, tool box – Even your pocket! And you'll still have pens left over!
And these are some quality writing utensils. Each ballpoint pens is filled with reliable, ultra-smooth ink that comes out of the 1.0mm medium point tip effortlessly with every "t" you cross and "i" you dot.
You also might notice that the body of the pens are clear so you can see the amount of ink contained within so you'll know when it's time for a new one. Plus, there's a removable cap that features a handy clip so you won't lose track of these contemporary quills, but if you do there's plenty more where that came from.
Pens like these can get pricey so make sure that you stock up on this great deal. And remember, when you by more you save more.
6-pc Mini Desk Accessory Kit
It's easy for a desk to get cluttered with office supplies… That's why I love this Mini Desk Accessory Kit!
In this 6 piece kit you'll get a mini stapler with extra staples, a small highlighter, sticky notes, a letter opener and a phone stand. They're small accessories but very useful and they won't overcrowd your desk.
It's the perfect little kit to keep around the house, dorm room, office or in a school desk. But you can also fit them in any purse or backpacks and take them with you on-the-go.
These accessories are cute, practical and fun to use!
Vegan Leather Spiral Journal
There's no school like the old school!
This Vegan Leather Spiral Notebook is the perfect place to write messages and notes, even for drawing and doodling.
The notebook has 100 double-sided lined pages that are always ready for your memos, notes and messages. The cover features a sleek and stylish design, made of durable faux leather material.
There's nothing like writing down something on a piece of paper. That's why it works great as a journal, diary, memo pad, address book; for taking down phone messages, making shopping lists, and so much more…
It's also sized right for travel. Put it in your purse, backpack, laptop bag, briefcase, satchel, and take it with you because you'll never know when you might need it.
And these journals are also available in a 4-Pack for ONLY $9.99!
Wireless Computer Mouse with USB Receiver
Whether you're working, studying, or online gaming, a comfortable and dependable mouse is key. But don't be fooled by the simple appearance of this Wireless Computer Mouse because it's designed to improve both work and play!
You'll notice right away just how comfortable its streamlined curved, ergonomic design fits right into your hand. Plus, it greatly reduces wrist pressure! And its sleek symmetry works easily with either left or right hand use – whichever you prefer!
This mouse is Plug and Play – so no need for a driver! Just add one AA battery and plug in the USB receiver, which is stored at the bottom of the mouse.
Gamers are sure to enjoy the variable DPI feature. It gives you the ability to quickly cycle between 5 different DPI, or "dots per inch", settings (2400, 2000, 1600, 1200, 800). This means that as you increase the DPI, the same distance you move your mouse, the cursor on your screen moves further, which makes it much quicker when, say, operating a character in a game.
It even has an automatic switch-off when your computer is turned off or when the receiver is disconnected. And when the mouse is inactive for 8 minutes, it will automatically enter "sleep mode" which seriously reduces frequent battery replacement. A true energy saver!
You're going to love the way this marvelous mouse looks, feels and works. It's just a click away!
Desktop Lamp and Desk Organizer with Built-in Bluetooth Speaker
This handy ring light is not just a lamp, it's also a desk organizer, phone stand, and speaker…ALL IN ONE!
Plus it's wireless, which allows you to bring this anywhere you need it.
The soft white light has three brightness settings: Low, Medium, and High. And the flexible neck gives you the perfect lighting angle.
The base will hold pens, pencils, markers, and other small, items to keep your workspace clean and tidy. Integrated in its design is a phone stand for ease of access to your media and messages.
It's even fantastic for video and Zoom calls since you'll always have a convenient and portable source of light, making you look good and professional on screen. This is a life saver for when you're working from home.
Most people these days listen to focus music, podcasts, and even audiobooks when they work. That's why this even includes a speaker that can be accessed via Bluetooth 5.0 for a stronger wireless connection.
This is truly a wireless experience and is perfect for those who love to work or study in different places, or you can keep it parked on your desk. No matter how you use this, it will be a mainstay in your house, apartment, or dorm.
Have a Great School Year!