That's right! PulseTV's Mega Toy Sale is here! We are not playing. Well, maybe we are…and you certainly will be once you get these fun and entertaining toys.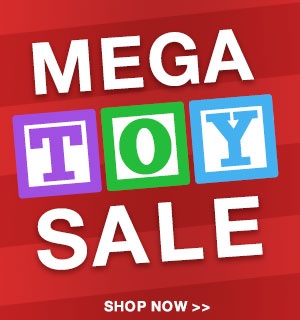 Now that Christmas is over, we have some overstock on our toys! You know what that means…prices have been slashed!
On top of ALL of our toys discounted, we threw in some of our speakers, headphones, DVDs, and much more to this event! This is a great time to stock up on future gifts for throughout the year! We are talking HUGE SAVINGS here!
Let's get right to it…here's just a sampling of what the Mega Toy Sale has to offer…
Hover Shot – Interactive Floating Target Game…$12.91
This is bar none, the best toy available in the Mega Toy Sale! This SUPER COOL target game hovers little foam balls in the air, and you shoot it down with your little Nerf-like gun! Soft darts means it's perfectly safe indoors for hours of target-shooting fun.
Please watch our fun video for the
Hover Shot
, the team got very creative with it.
Test your skills and trick shots for an endless amount of fun!

Super Fast Rechargeable Micro Pocket Racer w/ Globe…$1.91
Get ready to start your engines with the Super Fast Rechargeable Micro Pocket Racer! This little 'bad boy' will give you endless hours of fun. It zips, loops, turns, and flips…all at the speeds of up to 15 MPH! Put the car in the included Stunt Dome and you have a whole new toy. The intense speed of the car starts to defy gravity as it races all around the dome hugging the inside surface while driving. And the headlights have multiple flash modes including fade, blink, and even have police-style flash pulses.

Hurry, and race to the site and add some to your cart before the Mega Toy Sale ends… and at this price it won't be long before they are sold out!
Creative Charm Coloring Book – Includes 5 Colored Pencils… $1.49
The Creative Charm Coloring Book has 100 patterns, flowers, animals, and more! And each book comes with 5 dual-sided colored pencils – or you can use your own crayons, markers, pastels – you name it! These are highly-detailed and will help to take your mind off things for a little bit and are an enjoyable activity for a nice quiet evening at home. They make great gifts too! Send them to your friends and family, they'll love them.
Grab a few during the Mega Toy Sale today!
Bear Bowling – Fun Tabletop Game For Kids…$9.91
This toy was a HOT SELLER during the holiday season, but now it's time to clearance them out! It's one of those fun gifts that keeps the kids from playing electronics for once, and is fun for the whole family! And there is bear-ly any assembly required! Bear Bowling is a fantastic game to pull out for family game night!
Stock is running low so don't miss out! Take advantage of the Mega Toy Sale and get it while we have 'em!
RC Micro-Drone Wireless Quadrocopter…$6.91
This high flying quadcopter is one impressive RC toy, indoors and out. This full-featured micro drone has all the bells and whistles you'd expect a full-size one, but it fits in the palm of your hand.
A 6-axis gyroscope ensures stable flight for a surprisingly nimble drone. The remote control lets you do 360 degree stunt rolls with multiple speed settings to accommodate beginners and expert pilots alike.
Enjoy zipping through the air with the RC Micro-Drone Wireless Quadrocopter today!
LightSpeed RC Sport Car…$9.91

It's hard to go wrong with a remote control car, but the Light Speed Illuminated RC Sports Car is not your average RC race car. First it's a BIG 1:20 scale. That puts it at over 8 inches long. Big enough to take outside on the sidewalk. It even has rubberized wheels which are awesome for taking corners and running through obstacles.
But the Light Speed doesn't just have size on it's side. It also lights up with an LED display. Just flip the switch on the bottom of the toy and you go from the coolest RC car on the block to a suped-up night rider lit up in red, green and blue flashing lights. Makes night racing a whole lot more exciting. Even the remote control lights up!
Speed, maneuverability and lots of dazzling, LED lights make this a toy kids, and adults who are kids at heart, are going to go crazy for!
Illuminated LED Message Board With Neon Markers…$7.99
Shed some light on your creative side with the reusable Illuminated LED Message Board. You can write a message that you notice right away or create a work of art for the whole household to see, this clever glass "canvas" allows you to express yourself like never before.
To decorate, draw, or write, simply use the included set of three professional-grade window markers. The colors are bright and vibrant on their own, but when you flip the boards power switch on, your artistic creation will pop to life in stunning neon color. All four sides of the frame light up with LEDs shining a beautiful ambient glow on your artwork. It's quite a sight to behold!
It's fun for all ages and a great way to leave a note, have your kids or grand kids to decorate their rooms, or just have fun!
*****
There are so many more items, I just can't write about all of them. Please visit the Mega Toy Sale page, and see all the stuff that has been discounted to prices you cannot pass up… and remember, there is a lot more than just toys! So don't wait – hurry on over to PulseTV and…Happy Shopping.